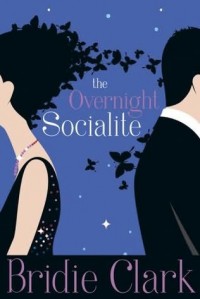 "In this beguiling retelling of the classic Pygmalion, we meet Lucy Ellis, a Manhattan transplant who dreams of making it as a fashion designer but instead toils away on a Garment District assembly line.  Roadblocked each time she tries to score a break, Lucy is beginning to think the unthinkable:  maybe it's time to pack it in and move home to Minnesota.  Then, during a torrential downpour, at her most bedraggled and disheartened, Lucy meets Wyatt Hayes IV.
Wyatt– man-about-town and bored Ph.D. antrhopologist–has just been publicly dissed by New York's reigning socialite, Cornelia Rockma, whom he'd been dating.  He boasts to his friend Trip that he can transform any woman-even a trailer-born nobody like Lucy-itno this year's "It" girl.  'Give me a few months,' he tells Trip, 'and I could turn her into a social luminary.  She'll make the rest of the pack look like dim little tea lights.'  If Wyatt can fool the East Coast aristocracy into thinking Lucy's the real deal, he can reveal the farce behind Cornelia's social superiority complex… and score a career-boosting book deal."
I spend so much time on the computer, so it's nice to take a break and read a good book.  I generally feel guilty taking that much time to myself, so when I get the opportunity to review a book, it works well – I get to take a break AND work at the same time!
Of course, reading "The Overnight Socialite" hasn't felt like work at all!  I've read the first few chapters and enjoy the plot, characters, and writing style.  Reading about fashion, romance, and New York City is pretty ideal.  This is a great "chick read" with witty, smart overtones – so it's definitely not a brainless Harlequin novel!
Bridie Clark's first novel, "Because She Can," was published in nineteen countries.  She's a Harvard grad and has written for the New York Times, Vanity Fair, New York, and Quest.  You can purchase "The Overnight Socialite" from Amazon.