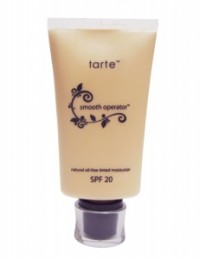 "This weightless formula is no lightweight: packed with skinvigoratingâ"¢ ingredients it will keep skin looking and feeling naturally smooth.  Smooth Operator's
"water-in-silicone" formula blends into your skin as easily as a a moisturizer (and it's oil-free, so it won't clog your pores).  The micro-treated pigments diffuse fine lines and wrinkles, giving an even, natural finish."
Read on for a breakdown of some of the "skinvigorating ingredients" included in the formulation…
Apple Extract:Â  Anti-inflammatory and soothing.
Camellia Extract:Â  Tea extract with powerful astringent & toning properties and rich antioxidants help reduce puffiness and inflammation.
Chamomile Extract: Rich in essential oils, chamomile is an antiallergenic and anti-inflammatory ingredient that's been known to treat and heal dry and damaged skin.

Ginseng Root Extract:Â  Anti-inflammatory, promotes cell metabolism.

Lemon Extract: Antiseptic and cleansing properties, helps with skin's elasticity.

Vitamin A: Helps remove free radicals, promotes collagen products and moisture retention, plumps skin.

Vitamin C:Â  Fights free radical damage, prevents oxidative stress and premature signs of aging, brightens skin.
Smooth Operator
comes in green packaging that features soy ink, and is formulated without all the "yucky stuff" like parabens, mineral oil, petrolatum, and unnecessary dyes or fragrances.
When I saw an update from tarte that advertised new shades of the Smooth Operator, I was really excited to see that there were lighter shades available.  You've all heard my multitude of complaints about complexion products neglecting the very-fair skinned, such as myself, so it's been great to see a lot of my favorite companies expanding their lines to include us!  Smooth Operator now comes in 11 shades.
My Thoughts:  I was sent shade "Agent 00" AKA "Porcelain/Fair Complexions with Pink Undertones" for review.  To my great excitement, matches me perfectly!  I'm not used to tinted moisturizers, as I have a somewhat problematic complexion, so I was expecting more coverage.  When I got used to the lighter coverage (which works best when set with powder), I really enjoyed this product.  I wear it when I go out to exercise, as I don't want something heavy on my face but also don't want to go without makeup.  And on the days when I'm not having any skin issues, this is a great alternative to unnecessary face products.  This doesn't cut it for a night out, as it won't hold up to lots of activity – that's more foundation territory.  Overall, I enjoy the product and how it evens my skin tone and allows me to skip moisturizer when I'm in a rush! Smooth Operator
is available at Sephora for $36.