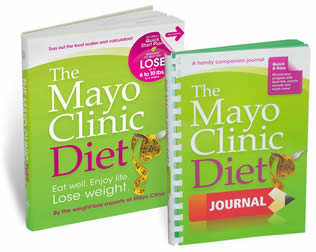 "In our work with literally thousands of patients, we've identified the critical habits of people who maintain a healthy weight, and the habits of those who don't.
With
The Mayo Clinic Diet
, we've boiled this research down to five simple habits to help you take off the extra weight — and five habits to break so that you can keep it from coming back. Plus, we've made it easy, because what works best when it comes to weight loss is keeping it simple!
The Mayo Clinic Diet
is composed of three sections to get you started, to keep you on track, and to give you the knowledge and tools you need to keep those unwanted pounds off for good
Lose it! is a two-week quick-start program designed to help you lose 6 to 10 pounds in a safe and healthy way.
Live it! is a long-term plan in which you continue to lose 1 to 2 pounds a week until you reach your goal. Then, you learn how to maintain your healthy weight for life.
All the extra stuff includes meal planners, recipes, tips on overcoming challenges and much more to help you along the way.
The Mayo Clinic Diet
puts you in charge of reshaping your body and improving your health — for a lifetime."
I received a copy of The Mayo Clinic Diet
– both the book and journal – for review.  I was thrilled when it arrived, but disappointed that it wasn't a diet that would work for me.  That was NOT because there's anything wrong with the plan, and it's actually great for you ladies – as I'm going to give my copy away.
So WHY is The Mayo Clinic Diet
not for me?  The "Habits to Gain" just won't work with my lifestyle!  For example, one habit is spending as much time exercising as I do on the computer.  As both a blogger AND an online student, I'm on the computer for often 8 or 10 hours a day.  I think I'd die if I spent that much time exercising too!
For anyone who doesn't live online like I do, The Mayo Clinic Diet
is a very feasible plan.  You add five good habits, break five bad ones, and add five bonus habits in the first two weeks – this is when the 6 to 10 weight loss takes place.  Other habits include things like adding a certain amount of fruits and vegetables, not eating while watching TV, and similar things that everyone can benefit from.  While I'm not going to follow the whole plan, I do intend to add the five good habits!
Oh and after the two weeks are up?  You don't have to be as strict with the plan, but by then, it should have been a real eye opener of the things you should and shouldn't be doing everyday.  The journal is there to help you record your progress and see where the issues are, and what your strong points are.  I think that keeping a record like this is a great way to really force yourself to face your weight/weight loss issues and help you strategize in a way that will work for you.
Now since I'm not going to use the book & journal, there's no point in me keeping it.  So my loss is your gain – no pun intended!  So I'm going to give to one of you lovely ladies!  I did write on the first page of the journal, but I did so in pencil…  so if there are any eraser marks, just ignore them and get on with what you've gotta do!
About Donald Hensrud, M.D.:
Donald Hensrud, M.D., M.P.H., is chair of the Division of Preventive, Occupational, and Aerospace Medicine and a consultant in the Division of Endocrinology, Metabolism and Nutrition at Mayo Clinic, Rochester, Minn. He is also an associate professor of preventive medicine and nutrition at the College of Medicine, Mayo Clinic. A specialist in nutrition and weight management, Dr. Hensrud advises individuals on how to achieve and maintain a healthy weight. He conducts research in weight management, and he writes and lectures widely on nutrition-related topics. He helped publish two award-winning Mayo Clinic cookbooks.
About the Mayo Clinic:
Mayo Clinic is the first and largest integrated, not-for-profit group practice in the world. Doctors from every medical specialty work together to care for patients, joined by common systems and a philosophy that the needs of the patient come first. Over 3,600 physicians and scientists and 50,000 allied staff work at Mayo, which has sites in Rochester, Minn.; Jacksonville, Fla.; and Scottsdale/Phoenix, Ariz. Collectively, Mayo Clinic treats more than 500,000 patients a year.
For more than 100 years, millions of people from all walks of life have found answers at Mayo Clinic. Mayo Clinic works with many insurance companies, does not require a physician referral in most cases and is an in-network provider for millions of people.
For more information, please visit this link.
Contest Info:  This contest is open to US Residents.  You must complete the mandatory entry for your extras to count; please leave a separate comment for each entry.  The contest will run until March 18th, 11:59 PM EST.
Mandatory Entry:  What's your worst weight-related habit?  What's your strength?
Extra Entries:
~Fan The Fashionable Gal on Facebook for 1 Entry
~Follow The Fashionable Gal on Twitter for 1 Entry
~Subscribe to The Fashionable Gal for 1 Entry
~Blog about this giveaway & leave me a link for 3 Entries
~Tweet this giveaway (you can use the following text if you like!).  Can be done daily for extra entries.
"Win a copy of the Mayo Clinic Diet & Journal from @fashionablegal http://tinyurl.com/yjw9cvr"