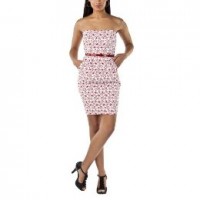 Okay this one almost flew under my radar – since I live in a state without Target, sometimes I miss these things.  But you can't blame me; it's hard to look a the fabulous things they're carrying when I know I can't have any.
But, um, Jean Paul Gaultier?  For Target?  Those words are music to my ears, regardless of whether or not I'll be sharing in the bounty.  I do have to say…  This is a hit-or-miss collection for me.  There are some really gorgeous pieces (like the Strapless Eyelet Dress at left) – but there are some hideously fugly pieces as well.
Below are some of my favorite pieces from the collection.  The prices aren't bad – generally in the $19.99 to $34.99 range.  What do you think?