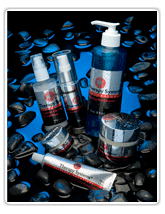 Therapy Systems is the brainchild of Linda Roberts, a woman after my own heart with a self proclaimed "obsession for cosmetics" and an ear for customer input.  Her goal back in 1990 was to great a range of "active and result-oriented skin care products" that would satisfy both her and her customers.  Linda wanted products that were effective, easy, and reasonably priced – which is just what I look for, too!
Linda's hard work and dedication resulted in a brand that's quickly become a favorite of mine:  Therapy Systems.  It features both Skin Care products and Makeup.  Therapy Systems is carried at Private Edition, The Cosmetic Market, the Therapy Systems Concept Store, and of course, online!
After hearing that Carrie Underwood uses Therapy Systems, I was curious about the brand.  Many of the products sounded like fabulous skincare tools, and I was eager to try them.  I was lucky enough to receive two products for review.  After enjoying them for the past two weeks, I've thoroughly tested both and am here to share my thoughts with you!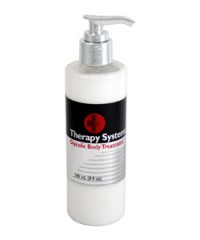 The first product I received is the Glycolic Body Lotion.  It's "an active moisturizing lotion containing 8% Glycolic to provide exfoliation and softening benefits.  This creamy lotion encourages rapid cell exfoliation of dull and lifeless cells to aid in the penetration of moisture and improve overall skin condition and appearance."
I love this moisturizer!  The first day I used it, I applied the lotion before going out for the night.  While at dinner a few hours later, I was rubbing my cold arms and suddenly realized how much softer and smoother they felt – pretty much instant results!  I have chicken skin on my upper arms, which the lotion hasn't resolved (though it's not meant as a treatment for it) but the generally softness and appearance of my skin has become much more appealing after frequent use!
If you've suffered from dry skin and dehydration over the winter, it's likely that you've got dry skin on your body that needs to be resolved before sleeveless dresses and bathing suits.  The Glycolic Body Lotion will help prep for your Spring and Summer wardrobe, but you'll want to start now – the Glycolic Acid can increase risk of sunburn, so it's best to start using it before you're baring all that skin!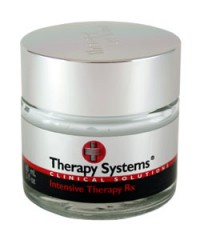 The second product I received to review was the Therapy Systems' Intensive Therapy Rx.  I've had a bounty of dry skin issues this season, but my biggest issue has been my face.  Drastic temperature changes (like the recent warm then cold then warm), a long winter, and heavy heat in my apartment has taken a toll on my face's delicate skin.  I've got patches of dry skin on my cheeks and chin that have been heavily persistent and very resistant to moisturizer.
Much like with the Glycolic Body Lotion, I saw almost instantaneous results with this product.  It's rich and creamy like a body lotion, but not at all oily or greasy, so even my sensitive skin hasn't reacted adversely.  A little goes a long way – a very long way.  That helps to offset the somewhat high price of the lotion, and means that it will likely last you all the way through to next winter!  The scent is very pleasing as well.  It's not strong or artificial…  The moisturizer just smells clean!  I really enjoy it.
Freezing weather, sun, and everything in between can harm your skin.  So even if you're leaving on a warm vacation or looking forward to hitting the beaches, your skin needs some extra TLC.  Intensive Therapy Rx will remedy your skin's toughest challenge and repair all the damage you've done, indoors and out.
I highly recommend Therapy Systems and look forward to experimenting with more of their products.  If you've tried any of their products, or decide to purchase some, I'd love to hear about your experiences!