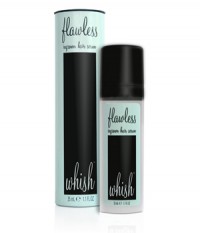 "A third party double blind clinical study was just concluded and the results are in!  We knew the amazing ingredients in Flawless worked to soothe, prevent, and repair areas where those nasty little razor bumps and ingrown hairs appear and now we have the clinical evidence to prove it.
In the study conducted by Bioscreen Testing Services, females ages 18 years old to 60 years old were recruited who had ingrown hair problems in their underarms.  Eighteen participants underwent a four week study.
We wanted to know if the organic aloe, wheat germ extract, organic cucumber and rose hips extract work as claimed – to soothe inflamed skin and reduce redness on shaving.  100% of participants in this double blind clinical study reported that Flawless "helped sooth inflamed skin".  100% of participants also reported "reduced skin redness on shaving".  No more red inflamed skin for these happy study subjects."
Flawless reduced ingrown hairs by 34% over a 4 week period vs. 9% for the placebo.
Percentage of participants noticing improvement:
Prevented occurrence of ingrown hair – 89%
Helped soothe inflamed skin – 100%
Reduced skin redness on shaving – 100%
Overall appearance of skin – 100%
Whish Flawless Ingrown Hair Serum is Paraben, Sulfate, DEA & TEA, and Petrochemical free.  They feature all natural and organic ingredients, which makes me happy!  The serum is available on the Whish Body Products site and retails for $22.