Recently, I've been featuring a selection of fabulous jewelry, many in the theme of Celebrity "Look for Less."  These pieces have all come from one amazing site:  Fantasy Jewelry Box.

Fantasy Jewelry Box has an entire selection of Celebrity Inspired Jewelry.  There are rings, earrings, necklaces, bracelets, and specific "Red Carpet Inspired" jewelry. My favorite part of celeb photos, gossip, and awards shows is always the jewelry, so I love having a guide to those pieces for less right at my fingertips!
Fantasy Jewelry Box proudly specializes in celebrity and designer inspired jewelry so that everyone on every budget can achieve the sought-after look of stardom. Fantasy Jewelry Box is… "Affordable Jewelry for Expensive Tastes"!

Fantasy Jewelry Box also keps up with the most current jewelry trends, and stock a range of pieces that pertain to each.  One of the new sections I'm most enamored by is the Animal Jewelry.
Fantasy Jewelry Box chooses the highest quality animal jewelry for our clientele. Each piece has amazingly intricate detailing, and all the materials used to make these snake rings, lizard bracelets, cubic zirconia earrings and imitation diamond brooches are of the highest quality. Usually CZ animal jewelry is very expensive, but at Fantasy Jewelry Box we try and keep our prices as affordable as possible because we want our stylish clientele to look as fashion forward without breaking the bank. When you accessorize with these pieces, you will look like you stepped straight off the fashion runway. What's fantastic is that chic animal jewelry never goes out of style, so you can wear these classic pieces over and over again knowing that you look great. Get one in every colorway, or get one of each animal for a fun and complete jewelry collection!
The Animal Jewelry section wasn't available when I was selecting a piece to review, or you know I'd be all over that.  Instead, I selected Yasmina's Light Purple Mosaic Vintage Style Ring (valued at $48.95).  This is what it looks like: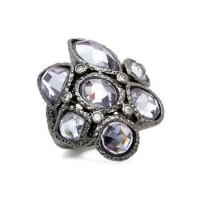 Isn't it gorgeous?  I'm absolutely in love with this piece.  It's even more stunning in person, and I receive tons of compliments each time I wear it.  I love the darker metal and tinted stones; much more interesting than plain silver and clear cubics!  I love the vintage vibes and the classic elegance it brings to anything I pair it with.  I usually don't even wear other jewelry at the same time, since it's such a show stealer!
BUY IT:  Fantasy Jewelry Box has many great promotions running to make ordering fun – and to get you the most bling for your money!  Free shipping on orders over $75, free 1 ct studs with over $50, and $20 off orders of $100 or more.  Wow!
WIN IT:  Fantasy Jewelry Box is offering one Fashionable Gal reader her choice of any item from the site priced at $35 or less.  That includes TONS of options in every jewelry category, so choosing will be quite the adventure!  This giveaway ends March 29, 2010 at 11:59 PM EST.
MANDATORY ENTRY:  1 Entry – Subscribe to Fantasy Jewelry Box's email newsletter.  You'll receive info about new products, as well as coupons and deals!
Extra Entries (Please leave a SEPARATE comment for EACH):
1 Entry – Check out the selection at Fantasy Jewelry Box and tell me which item is your favorite!  It doesn't necessarily have to be the one you'd choose if you won, so it can have any value.
1 Entry – Check out FJB's Blog and tell me the name of your favorite post!
1 Entry – Fan Fantasy Jewelry Box on Facebook
1 Entry – Fan The Fashionable Gal on Facebook
1 Entry – Follow @FantasyJewerly on Twitter
1 Entry – Follow @FashionableGal on Twitter
1 Entry – Enter any other ongoing Fashionable Gal Giveaway
1 Entry – Subscribe to my newsletter (box on sidebar)
5 Entries – Blog about this giveaway and leave a direct link.
Tweet this giveaway.  1 Entry Per Tweet, Per Day!  Use the following text:
#Win a piece of jewelry *WINNER'S CHOICE* from @FantasyJewelry & @fashionablegal http://tinyurl.com/ybtuva3