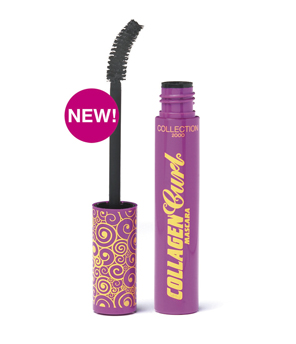 "Just like the infamous LBD, full and fan like lashes are always in style. New Collection 2000 Collagen Curl Mascara is an easy way to recreate that dramatic eye look that is so popular on the catwalk."
-Athena Skouvakis, makeup artist for Collection 2000
Collection 2000 is a brand based in the UK that carries a great selection of lip, eye, face, and nail products.  I was sent several products from the collection to review, including the new Collagen Curl Mascara.
I was immediately excited to try the product because I love the packaging!  I have about ten tubes of mascara and must of them have simple black tubes…  I can always find my Collagen Curl, as it's purple and yellow retro-esque tube definitely stands out!
It includes a curved brush, which seems to generally be a love it or hate it sort of thing for gals.  Personally, I liked curved mascara wands, although I use them backwards – with the curved part facing towards my eye.  I find it makes the mascara easier to apply and deposits a heavier coat.
With the mascara itself, I had slightly mixed results.  The initial application results in BAM! super full and lush lashes.  I did notice that I needed a refresher coat before going out later in the day or at night, and that there was a small amount of flaking.  I would like a waterproof version of Collagen Curl, as I think it might stay fresh longer…  The gorgeous spray of lashes it does deliver is worth the reapplication, so overall I'm a fan.
You can check out the whole line of Collection 2000 products here.  I'm particularly interested in the glitter liners kohl eyeliners – there are some super gorgeous colors available!