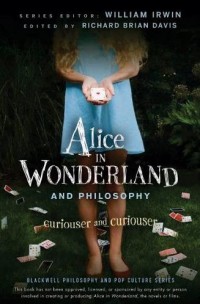 "Alice's Adventures in Wonderland has fascinated children and adults alike for generations.  Why does Lewis Carroll introduce us to such oddities as a blue caterpillar who smokes a hookah, a cat whose grin remains after its head has faded away, and a White Queen who lives backward and remembers forward?  Is it all just nonsense?  Was Carroll under the influence?  This book probes the deeper underlying meaning in the Alice books and reveals a world rich with philosophical life lessons.  Tapping into some of the greatest philosophical minds that ever lived – Aristotle, Hume, Hobbes, and Nietzsche – Alice in Wonderland and Philosophy explores life's ultimate questions through the eyes of perhaps the most endearing heroine in all of literature."
I know, I know – this isn't fashion related!  BUT since Tim Burton's remake of Alice in Wonderland has been causing such a stir, I couldn't resist sharing this with you gals!  I received a review copy of "Alice in Wonderland & Philosophy" and have been reading it between issues of Marie Claire and episodes of Desperate Housewives.  It's fascinating!
There are three sections, and each is divided into "chapters" written by various fascinating professionals.  Each includes quotes from both Alice, and various philosophers and great minds throughout history.  They're blended together into various interpretations of themes and characters in the story.  Some of these sections didn't appeal to me, but others were a great read.  Because this book isn't written as one story, you're free to pick and choose which chapters appeal to you – which makes it more fun to read (there's no slogging through whatever's boring).
Taking some time out to read a good book (or watch a movie) will help you stay fresh, rejuvenated, and mentally alert.  And that, gals, will help keep you pretty.
You can purchase a copy for yourself from Amazon.