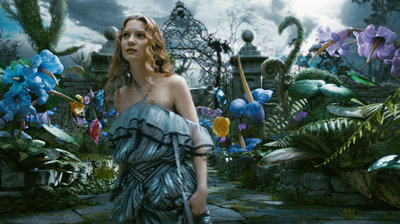 Okay so WHO is excited for Tim Burton's Alice in Wonderland tonight!?  I cannot freakin' wait!  If it's as amazing as I'm sure it will be, it will quite possibly in my Top 10 events of 2010.  If you're not looking forward to it, don't even tell me – I might have to fight you ; )
I'm almost equally thrilled about the wide arrange of Alice in Wonderland related accessories that are on the market.  There are items for every budget and style – I'm hoping to pick up at least a few!  To help you with your movie night style, I've gathered info about some of the greatest pieces (and my personal favorites) for you below.
Mad Hatter Ring
($16), Drink Me Necklace
($20)
Both of the pieces above are from Torrid.  The site also offers several adorable Alice tees and a few more pieces of jewelry, but the above really stood out.  The detail on both is fantastic and I'm totally coveting them for my Alice collection!
Charm Bracelet by Tom Binns ($124.95), Red Queen Necklace by Swarovski ($129.95)
I know, I know…  The pieces above are a tad on the expensive side.  That doesn't quell my NEED for the bracelet.  The detail is exquisite.  And the necklace?  It doesn't scream "Wonderland" so it can easily be incorporated into an outfit for just about any occasion.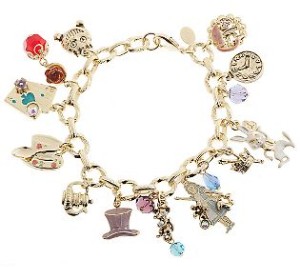 Kirks Folly "Go Ask Alice" Charm Bracelet ($70)
If you're looking for a more affordable charm bracelet, check out this gorgeous piece from Kirks Folly.  It's available on QVC, which is a site I can't seem to link from.  Just search for it on their site and you'll be able to find it in a snap.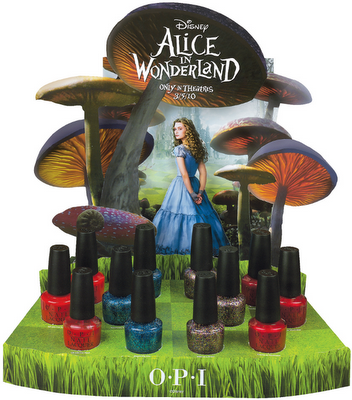 Just in time, OPI has released an Alice in Wonderland collection that features four sparkling polishes.  I'm particularly partial to the blue (Absolutely Alice) and multicolored (Mad As A Hatter) – the lighter red on the right (Off With Her Red!) actually doesn't feature glitter, but the darker red on the left (Thanks So Muchness!) has a very soft sparkle.
You can pick up an OPI Alice in Wonderland Mini Nail Lacquer Set
for $9.49, or get OPI Alice in Wonderland Collection Nail Polishes
for $8.50/each.