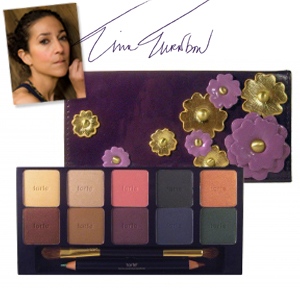 Tarte Flower Child Natural Eyeshadow Palette – $44
"Inspired by the rich earthen hues from which our pure color pigments are harvested and this spring's runway and red carpet trends, Tina's interpretation of tarte's best-selling eyeshadow palette combines saturated tones with subtle pops of color. Versatile and artistic, this palette seamlessly transitions between day and night. This harmonious balance of shades ingeniously captures the expressiveness of the eyes. Also included is a double-ended eyeliner in complimentary shades of matte brown and shimmering jade, a double-ended brush with greatness eyeshadow brush and sample of our liftedâ"¢ natural eye primer with Firmitolâ"¢. Magnetic base of the shadow palette allows you to refill and reuse helping eliminate environmental waste."
tarte's shadows are immensely awesome.  The color payoff is unbelievable, the texture is fabulous, and they're eco-friendly.  I also really adore all the different super-cute cases that the shadows come housed in.  At first I wasn't crazy about the color's in this palette, because I like my colors a bit more dramatic.  However, looking at the photo above while I write this…  I'm actually really diggin' them.  I don't do browns so forget about those, but the buttery yellow and warm wheat shades are really speaking to me.  The soft pink and orange shades make me even more excited for warm weather, and the other shades are perfect for a smoky eye that's not too harsh.  So all in all…  I'm kind of in love with this sucker.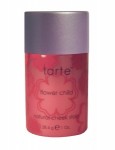 Tarte Flower Child Natural Cheek Stain – $30
"Get an early start on the summer of love with this natural cheek stain infused with tarte's t5 superfruit complexâ"¢. Inspired by the natural glow of fresh-faced flower children of the Haight-Ashbury era, this deep golden rose shade is in perfect harmony with all skin tones for an instantly warmed complexion that outwardly reflects your inner peace."
This is another tarte product you can't go wrong with.  I don't know about you, but my skin's suffered through this winter, and is extremely dry.  Putting powder blush onto dry skin only accentuates the problem.  However, creamy products like tarte's cheek stains are perfect for adding color without problematic texture.  And of course, this shade is totally gorgeous!