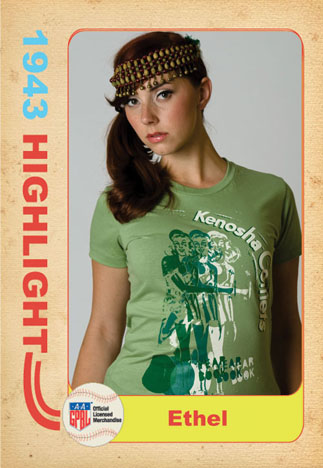 It's time for the first giveaway of 2010!  Between wrapping up all the December giveaways and taking care of everything on my end, this is happening a lot later than I would have liked…  But hey, a giveaway is a giveaway, right?!
"Vintage Blue is a vintage-inspired sportswear line for women that holds the exclusive license to the All American Girls Professional Baseball League.  Vintage Blue considers itself a timeless brand that produces high quality garments using eco-friendly fabrics and dyes.  The company will continue to pursue licensing opportunities and draw inspiration from various sports genres throughout the eras.
Not only does Vintage Blue produce chemical-free garments, but it is a sustainable company in all aspects using eco-friendly materials when creating items like line sheets, catalogs, hang tags, and more.
Vintage Blue is a socially conscious company donating 5% of profits to various organizations, implementing an internship program which fosters self esteem and garners opportunity to grow with the company to motivated young women, and creating campaigns that encourages people to make a positive change."
I'm not big into sports myself, but I love the great retro graphics on these tees.  I'm also excited to see all the ways that Vintage Blue is taking care of the environment, supporting youth, and empowering women.  What a great company!  And if you're a sporty gal, they're the whole package.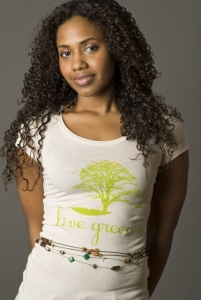 Don't get me wrong – these aren't tops you'll only be wearing on the field.  The "Vintage Blue Originals" Collection features four tees to wear anytime, such as the "Live Green" tee pictured above.  $1 from each "Live Green" tee sold will go to the Arbor Day Foundation's Plant a Tree Program.
The only thing that I'm not crazy about is the sizing.  The largest sizing available is an Extra-Large, which translates to an 8-10.  Another tee has an XL as a 12-14 which seems more standard;  I feel like calling a girl who wears an 8 or a 10 an extra large is ridiculous!
The tee we'll be giving away is the Ethel, pictured at the top of the post, which is valued at $24.
How to Enter:  Sign up for Vintage Blue's mailing list, which can be found here.  You must do this to be entered; leave a comment telling me that you've subscribe.  This contest will run from January 25th, 2010 to February 1, 2010 11:59 PM EST.  A winner will be chosen at random and announced here, as well as on the Vintage Blue Blog.
Extra Entries:
Browse Vintage Blue and leave me a comment with the name of your favorite tee (cannot be one mentioned in this post).
Add Vintage Blue on MySpace.
Fan Vintage Blue on Facebook.
Fan The Fashionable Gal on Facebook.
Follow Vintage Blue on Twitter.
Follow The Fashionable Gal on Twitter.
Subscribe to our newsletter.
Tweet this giveaway using the following text:
"Win a sporty graphic tee from @VintageBlue & @FashionableGal – ends 1/31; lots of extra entries!  http://tinyurl.com/y88rovb"
Good luck!