I've wanted a KitchenAid Mixer for as long as I can remember – it reminds of all the delicious things my mom would bake when I was little.  I love cookbooks and always enjoy expanding my collection…  And of course, Benefit Cosmetics?  Seriously, this prize could only be better if someone was going to actually come to my house WITH cupcakes, and do my makeup.  And maybe rub my feet…
Enter the giveaway here; good luck!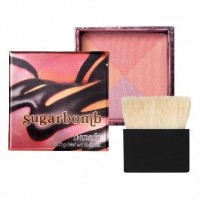 When you're done, check out Benefit's new Sugarbomb – "sugar rush flush" face powder ($28).  I adore face powders/blushes with several shades to them, as I find they look more natural.  The shades in Sugarbomb are gorgeous, and I could see using the peach shades as eye shadow, too.
Find out how to get the "Sugarbomb look" in a few simple steps here.