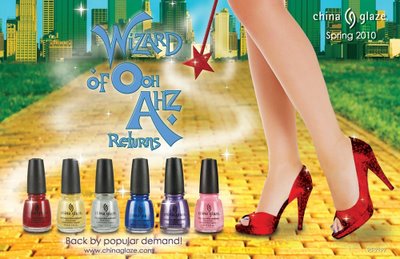 If you missed out on China Glaze's original release of the Wizard of Oz color collection, you've got a second chance!  The Wizard of Ooh Ahz, scheduled for Spring 2010, features six limited edition glitter polishes.  Here's a breakdown of the colors (left – right):
Ruby Pumps:Â  Gorgeous ruby red that sparkles even more than Dorothy's shoes!
Cowardly Lyin':Â  Warm, frosty gold.
The Ten Man:Â  Beautiful silver sparkles in soft silver polish.
Dorothy Who?:Â  Sexy sapphire.
C-c-courage:Â  Rich, shimmering purple.
Good Witch?:Â  Soft rose.
My nails are a mess so I don't have swatch photos for you, but the lovely Vampy Varnish has some fab photos of her sporting these six shades.  Ruby Pumps and Dorothy Who? are my favorites, as they're both very deep, rich colors.  And you know I'm all about the purple, which is right on trend for the season!  The silver and gold are also on trend with the metallic rage, and I'm loving the soft pink for Spring.
I love really dark, stand out polish, so I've been wearing 2 – 3 coats of these lovely shades, depending on how dark the polish is to begin with.  The pastel pink and metallics require more coats for a more opaque coverage.
China Glaze is not featuring the set on their website, so I'm not sure if it's officially launched;  I was sent the set for review, and to share a sneak peak with you ladies.  However, it is available on Head2ToeBeauty for $17.94.  You can also check out the "Loves You Snow Much" set (pictured below) that features Ruby Pumps, Tinsel, and two other festive shades.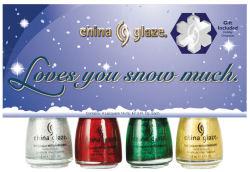 You can also stay updated on everything China Glaze by following them on Twitter.  They've got great info, photos, and giveaways going on!