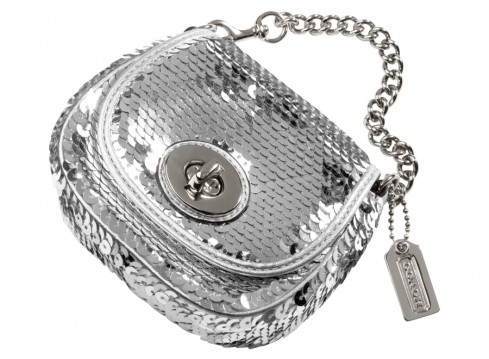 Coach has included The Fashionable Gal as 1 of their 30 bloggers for the Coach Holiday Blog-a-Day this year! We are so excited to be a part of such an amazing group of bloggers and have the opportunity to show you a few pieces from the Coach Holiday collection and give one lucky reader the chance to win the fabulous Poppy Sequins Mini Flap!!!
First, I want to show you some stylish and fashionable Holiday party bags that will work for evenings out as well as Holiday parties. The Coach Holiday collections has some great choices like the Amanda Drawstring bag, Poppy feather crossbody, Garnet clutch and the Amanda sequin clutch.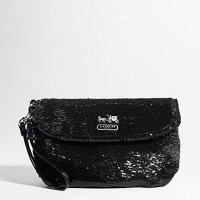 If you aren't brave enough to wear sequins, the Amanda sequin wristlet would be a great choice. You can get the glamor of sequins without feeling uncomfortable.
When it comes to handbags and purses, you can go a little crazy without looking silly. When it comes to small bags like clutches and wristlets, be bold and try something really interesting. While it should compliment what you're wearing, don't be afraid to go with a bright color like purple or teal. Treat your bag like an accessory that can accent your whole outfit.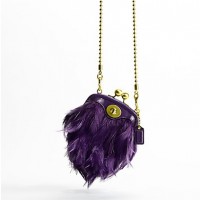 Feeling fun and flirty this Holiday season? Grab the Poppy feather crossbody! It's absolutely adorable and endlessly chic.
This bag will look fabulous with almost any Holiday party dress. But instead of going out and buying a brand new dress for that office party or family get-together, you can get a new bag from the Coach holiday collection that will add immediate interest to a dress that you already own. What a great way to spice up your little black dress! Just throw a new bag over your shoulder and it will make all your clothes seem more fashionable. Plus it's a great conversation starter and will make people forget that you're wearing the same exact dress you wore to the party last year!
If you want a more grown-up sophisticated look, you should consider the Garnet textured metallic clutch. It's large enough to hold everything you need for an evening of play like your cell phone, lipstick, your wallet and even a makeup compact.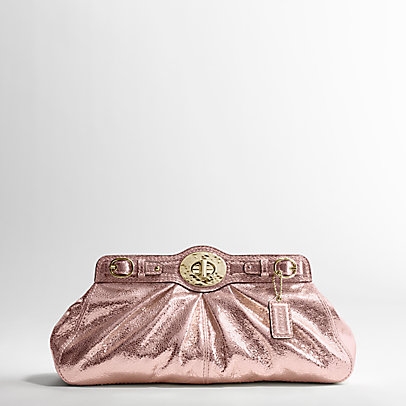 Look at how pretty that is! I like this one especially because of the gorgeous shiny texture, cute buckle accents and a convenient outside back zip pocket. It closes with a nifty little turnlock closure and even has a strap in case you get sick of carrying it around.
The clutch comes in rose, silver and gold. I love them all! It's a classic looking bag that you will be able to use again and again.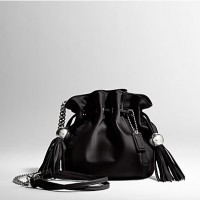 If you're looking to get the most bang for your buck, you need the Amanda drawstring. This adorable satin drawstring bag comes in black (as shown) and magenta. While it's dressy enough to wear with your party dresses, it's not so over the top that you couldn't use it as a regular evening bag. It has a padded strap with is super practical and makes this bag and excellent choice for any fashionable gal!
One of the reasons I really like Coach handbags is because their bags are actually functional, besides being totally fashionable. That is why I was really pleased that Coach partnered with us to offer you a chance to win a fabulous sequin mini flap from their new Poppy collection!
If you're a Coach fan or just need a new handbag, be sure to enter our Coach Giveaway!