"Scruples celebrates over 26 years of excellence in the professional salon industry.
Scruples has been family owned since its inception in 1983 and has held to its vision of what's important: service, professionalism and integrity.
From this vision, a culture that embraces the needs of professional cosmetologists emerged.  Consistently focused on creating innovative products, outstanding promotions and marketing support that works, everything we do is designed to help make salons more successful.
Experience the difference. . .be a part of the family."
Scruples is a company that was introduced to me recently by a fellow blogger, while I was on the quest for "Pink" products to bring you during the month of October!  And already…  I'm in love.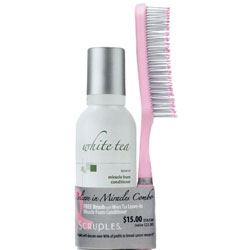 Scruples generously sent me their "Believe in Miracles" duo, a package that contains their White Tea Miracle Foam Conditioner and an adorable pink brush.  The combo was featured on ModernSalon.com earlier this month, in an article about best "pink" hair care products.  Although I haven't tried any of the other products in the White Tea collection, I'm really excited about it because:
White Tea is considered to be the finest, most sophisticated and rarest of all teas. The minimal processing used in cultivating White Tea keeps it energized, pure, and packed full of disease fighting nutrients.
Enriched with Scruples White Tea Restorative Complex

High concentration of cancer-inhibitors
Protects lipid production
Sulfate free, fade resistant
Formulated with Scruples Protective Barrier Complex (PBX®)
Scruples Investment Protection Seal guarantees long lasting, superior results extending the life, beauty, and intensity of haircolor and texture investment.
I have to keep reminding myself that these products are meant to go in my hair, not in my mouth…  Even though the Foam Conditioner looks & smells like a yummy whipped cream…  Regardless of the fact that I'm not supposed to eat it, I love the Miracle Foam!  My hair gets super-dry, due to color-processing, excessive blow drying & straightening, and unpleasant weather.  I love any product that keeps my hair healthy & happy- and Scruples Miracle Foam Conditioner does just that!  The brush is also a nice addition, as having a brush just for "treatments" is a great idea, but not something I have extra money for normally.  The set retails for only $15 (or $14.99, depending on where you buy from) and is totally worth it, as it will quickly become a staple in your hair-care "wardrobe."  What's even better?  40% of the profits made from each set will be donated to Breast Cancer Research!
Not only has Scruples been generous with me AND with charity, but they also want to involve you in the fun!  They donated THREE bottles of their Direct Volume Spray Foam to our own efforts to raise money for Breast Cancer Research (ARV of each is $12.00).  You can check it out here!
A complete list of Scruples products is available here.