As you know, our cause here at The Fashionable Gal for October is Breast Cancer Awareness!  One of our favorite brands, Philosophy, is supporting too!  Check out these fab products…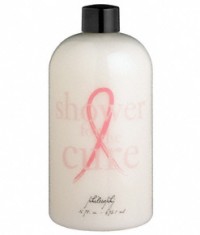 Shower for the Cure ($20/16 oz)
"shower for the cure is philosophy's pink ribbon shower gel – a creamy all-in-one formula that can be used as a shampoo, shower gel or bubble bath. this long-time philosophy favorite contains a touch of milk proteins and fruit essences to provide a delightful experience for your senses. shower for the cure represents the spirit of every woman and 100% of philosophy's net proceeds from the sale of shower for the cure will be donated to the Women's Cancer Research Fund. please note that this product is non-refundable. the memorable scent and poem on the pink ribbon shower gel was inspired by the unforgettable charity event, one of hollywood's most beloved occasions which is held every spring and is chaired by Rita Wilson and Kate Capshaw."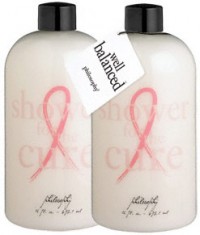 Charity Shower Gel Gift Set ($32/2 piece)
"one of the aspects of leading a well balanced life includes giving to others. philosophy's well balanced set includes 2-16 oz. shower for the cure pink ribbon charity shower gels. the creamy, 3-in-1 formula contains a touch of milk proteins and fruit essences to gently cleanse and condition your skin and hair. 100% of philosophy's net proceeds benefit the women's cancer research fund. as you lather, feel good knowing you're supporting a good cause."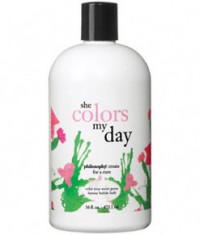 She Colors My Day ($20/16 oz)
"inspired by the artwork of her daughter, philosophy founder cristina carlino authored and co-created she colors my day, a heartwarming song that honors the unique relationship between a mother and her daughter. this unique bath product was created to celebrate the bond between mothers and daughters and help give back to a very worthwhile cause. the lyrics of the song can be found on the packaging of this inspiring bubble bath. she colors my day generates high-foaming bubbles, lightly tints your bath green and helps soothe and moisturize skin. we encourage you to take pleasure in the bright green bubbles and fresh, clean scent as you soak. 100% of philosophy's net proceeds from the sale of she colors my day will be donated to the Entertainment Industry Foundation's Women's Cancer Research Fund to support the early detection of women's cancers. available exclusively on philosophy.com."
I love that Philosophy gives back in such a meaningful way- these 3-in-1 formulations are thick, rich, and luxurious…  Wonderfully scented and high lathering.  No matter how many body washes I try, I always return to my Philosophy scents!
What's really nice is that these products aren't just limited edition- Philosophy sells their charity-themed products all year round!  Which means no matter what the month, you can score heavenly bath products while still supporting worthy charities!
Philosophy has also been very generous with us; two of the She Colors My Day body washes are being given away on The Fashionable Gal (here), in our own efforts to support Breast Cancer Research!  Please check it out!