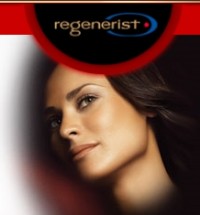 The Olay Regenerist Collection scores high in consumer reviews, popular magazines, and is frequently mentioned by dermatologists and other leading skincare experts. Products from the Olay Regenerist Collection have won numerous awards in publications such as Allure, Shape, Glamour, InStyle, Self, Brides, and more.
Olay Regenerist beautifully regenerates skin's appearance, renewing its outer layer one cell at a time. So if you don't want to take drastic measures like a chemical peel, then you might consider trying some of these products. With Regenerist, immediate and long-term significant continuing effects can be achieved in the comfort of your own home. Formulated with the exclusive Olay Amino-Peptide Complex, Regenerist combines a specific pentapeptide, Pal-KTTKS, with other proven anti-aging ingredients (vitamin B3, vitamin E, pro-vitamin B5, green tea extract, and allantoin).
The unique complex helps to regenerate skin's appearance without compromising skin's moisture barrier. It renews skin's outer layer, helps skin appearance regenerate quickly and strengthens skin's moisture barrier. The result is skin that looks, feels, and behaves more like new skin.
R to L: Eye Anti-Aging Roller – $22.99
, DNA Superstructure UV Cream – $29.99
, UV Defense Regenerating Lotion SPF 50 – $29.99
If you are looking for real results and a great anti-aging regime, then you should try some products from the Olay Regenerist collection. Most products available in Wal Mart, Target, and some supermarkets as well as online at drugstore.com
and ULTA
.
You can enter to win these fabulous Olay Regenerist products in the Fashionable Gals For A Cure Breast Cancer Awareness Fund Raiser and Giveaway. (Look for prize pack number 3!)