"Appearing nightly on stage:
A mix of Retro Kitsch, Rockabilly Chic, Vintage Horror and Pop Culture Obsession.
Specialties of the house:
Pendants, Charm Bracelets, Key Chains, Compact Mirrors and other Needful Things."
Laughing Vixen Lounge occupies a little corner of Etsy that's clearly devoted to all things fabulous.  I was originally drawn to the e-boutique when I noticed the Marilyn Monroe and Audrey Hepburn charms…  But I stayed for pendants that include bold retro imagery and tag lines like "I (heart) Zombies."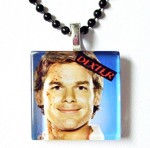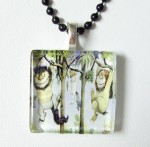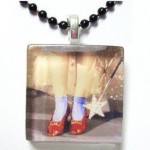 Dexter– Where the Wild Things Are – Wizard of Oz
I love the blend of current and classic references!  These pendants are not only attention-grabbers, but they're also total conversation starters!  Each Glass Pendant retails for $10.50, and when you buy 2, you get 1 free!  PERFECT for holiday shopping!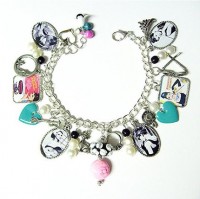 How amazing is this Breakfast at Tiffany's Charm Bracelet?  If you're a Hepburn-lover, or have one on your holiday shopping list… This bracelet is a total must!  The detail and decoration is absolutely amazing.
You can follow them on Twitter, and Laughing Vixen Lounge also has a blog, where giveaways are frequent and prize-packed!  And speaking of prizes…  Laughing Vixen Lounge has donated THREE glass pendants to Fashionable Gals to a Cure!  They're included in Prizes #1 (along with Bambako Headbands, a Beautyfix Kit, and Scruples Hair Spray), #13 (with a $25 Marshalls GC, a Beautyfix Kit, 2 Bra Barrettes, and DermaQuest Cream), and #15 (with a Beautyfix Kit, Gillette Shave duo, 2 Bra Barrettes, and a $50 SuperShoes.com Gift Card).  Thank you, Laughing Vixen!!!