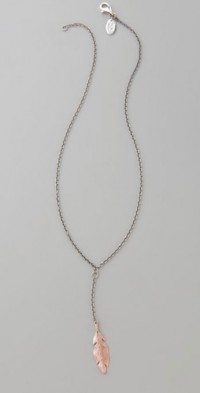 October's almost over, so it's time to nab your favorite limited-edition Pink items before they disappear!
Designed by Robert Lee Morris for the Elizabeth & James line, the Breast Cancer Awareness Necklace above is sold exclusively at Shopbop.com.  The chain is 16″ long and the feather is plated with rose gold- my preference out of all the golds!
It's great to see a piece of BCA that doesn't actually have a pink ribbon on it; I obviously have no problem with pink ribbons, but sometimes it's nice to wear a piece that you know supports a cause, but doesn't advertise it blatantly!  This subtle feather will blend in and stand out–no one will notice anything but how pretty it is!
I love the chain extension that the feather's hanging off of, as it makes the pendant stand out more than a regular necklace, where the chain and any subsequent adornments can get lost in your shirt.  The length and style of this piece will keep it front and center!
The Elizabeth & James necklace retails for $58, and Shopbop will be donating $15,000 to the Breast Cancer Network of Strength in honor of the sale of Pink products like this.
Oh and in case you didn't know?  Feathers are totally in for fall, as long as you keep 'em simple and chic- just like this necklace!
Craving more Pink jewelry, fashion, and fabulousness?  Check out Fashionable Gals for a Cure, where we're giving away THOUSANDS OF DOLLARS in prizes, including gift cards and a Clarisonic Skincare System!