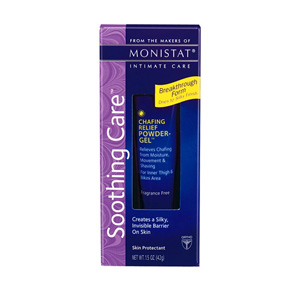 Monistat Soothing Care Chafing Relief Powder-Gel…  Otherwise known as my new miracle product.  I am completely and totally in love with this product, with absolutely no complaints.
*If this is old news, pardon me–I recall this product being released at least a year ago, but somehow, it's eluded me until recently.  Fortunately, my endlessly awkward boyfriend had a tube (something about wearing tight pants to work; don't ask) which I commandeered.*
Basically, my n0t-s0-petite thighs make wearing skirts and dresses for more than fifteen minutes (at least, when I'm going to be walking around) a rather unpleasant experience.  I used to wear stockings all the time, but it's just way too hot in the summer…  So, since about May, I've just been suffering.
Now, about a quarter sized squirt of this miracle product totally solves the issue.  Soothing Care's formulation is very similar to foundation primer* and goes on just as smooth.  It absorbs quickly, so I don't feel greasy or uncomfortable, and it doesn't cause any staining if it gets on my clothes.  Instead of scraping together, my thighs glide smoothly, as if I was wearing silk shorts.  And, the Soothing Care lasts all day long (even when it's hot!) so I don't have to come up with any excuses to put a hand up my dress while I'm out.
A word from the makers:
Non-greasy POWDER-GELâ"¢ skin protectant formula with dimethicone. Dries to form a silky, breathable barrier to fight friction.
Prevents chafing and irritation caused by moisture, heat, and movement. Ideal for treating everyday intimate discomforts of athletes, plus-size women, new moms and bikini area waxers or shavers.
Fast-acting formula comforts chafed skin. Works with just one application.
Fragrance-free and non-staining. Discreet relief without damage to your undergarments.
Non-irritating formula with vitamin E and soothing aloe. Gentle enough for daily use on even your most delicate areas.
You can also use Soothing Care on your arms, breasts, etc.- pretty much anywhere your clothing or skin is rubbing uncomfortably.  *Also, people apparently DO use it as makeup primer.  I'm too worried that I'll break out if I put it on my face, but if you Google it, there are a lot of discussion board postings about using it as makeup…  That one's your call.
Want your own?  You know you do!  The Monistat "Where to Buy" page recommends Target, Wal-Mart, CVS, Rite Aid, grocery stores–pretty much anywhere you buy other Monistat products.  You can also pick up a tube on Drugstore.com for $7.99.  Worth EVERY PENNY!