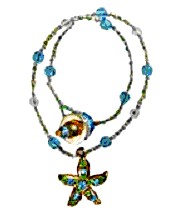 The very generous people at Sparkle-Plenty are sponsoring today's giveaway, and they even let me pick the prize (so I better not hear any complaints : D )!
If you remember, I reviewed the gorgeous Swarovski crystal jewelry and apparel that Sparkle-Plenty provides back in May. I'm still rocking the beautiful tennis bracelets they sent me & loving all the compliments I get!
However, now it's YOUR turn to win some bling! The gorgeous Blue & Green Beaded Starfish Necklace is up for grabs and I'm giving you lots of ways to win! I'm totally jealous; as much as I love my bracelets, I'd totally rock this necklace next time I go to the beach!
Since basically no one has been reading the rules and following giveaway directions, I give up… You can still email your entry to thefashionablegal@hotmail.com to guarantee the spam filter monster won't eat it, but I WILL accept comments on this post as entries as well. You have until midnight EST on July 14th to enter- that hasn't changed. (If you choose to email, please put "Sparkle Plenty Giveaway" in the subject line!) If you're doing something that gives you two entries, please leave two comments!
Mandatory Entry: Visit Sparkle Plenty and tell me about another item you'd love to win (please leave a link to it in your comment).
Extra Entries:
Subscribe to my blog (box on sidebar) ~2 Entries
Follow me on Twitter @fashionablegal ~1 Entry
Follow Sparkle Plenty on Twitter @sparkleplenty1 ~2 Entries
Tweet this giveaway by copying & pasting the following text (w/o quotation marks) ~2 Entries per tweet (up to 2 per day)
"PLEASE RT: Win a gorgeous beaded Swarovski crystal necklace @fashionablegal Birthday Bash Giveaway #3 of 15! http://bit.ly/gkK15"
Enter any other Birthday Bash giveaway on TFG (you can come back and do this when new ones are posted) ~1 Entry Each
Blog about this giveaway ~5 Entries
Make a purchase from Sparkle Plenty and email me the confirmation (you can black out any personal info) at thefashionablegal@hotmail.com ~10 Entries