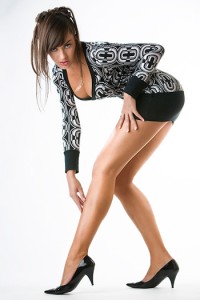 Now that it's summer, it's time to show some leg! However, over all those long winter months, things might be a little… fuzzy. I know that I don't shave my legs as often in the winter, and consequentially, my skin has become more sensitive and there's definitely some regrowth to deal with. Getting back into a pattern of frequent shaving totally isn't my favorite thing ever. The average woman shaves 11 times per month and I think I'm starting to keep up! I've got some product reviews on the way to help you get an idea of what should be in your anti-hair arsenal! And in the meantime, here are Gillette's 6 Steps to Show-Stopping Legs!
Step 1: Prepare Your Legs for a Smooth Shave– According to a recent survey, 64% of women agree that a smooth shave makes their legs look sexy. Prepare your legs by soaking in a warm bath or shower for two minutes to hydrate hair so that it is significantly easier to cut. Apply a shave gel with a rich, creamy lather before shaving to keep hair hydrated and smooth the razor's glide.
Step 2: Select the Razor That Works Best for You– Mascara, lipstick, and a razor are the three most important products in a woman's beauty arsenal, according to a recent survey. But the right razor is critically important. Whether you're a woman who wants to indulge her skin and sense in the shower or someone who values a close and comfortable shave with no missed hairs, Venus has a perfect razor for you.
Step 3: Leave Your Legs with an Incredible Glow– After shaving, moisturize your legs so your skin glows and feels supple. A rich moisturizer or shimmer lotion rehydrates and replenishes your skin's natural radiance.
Step 4: Slip Into Your Favorite Flirty Skirt– You've taken the right steps to get your legs smooth, so now every outfit in your closet is fair game. Trade in that dull pantsuit for something feminine and fun- like your favorite flirty skirt- to showcase your show-stopping legs.
Step 5: Finding the Perfect Shoe–
The Ultimate Sexy Shoe: According to shoe designer Courtney Crawford, the most stylish shoe is the stiletto. They are perfect for creating a sleek silhouette that highlights the contours of your smooth legs. Stilettos help a woman to feel taller, and they lengthen the look of her leg. For those who are more adventurous, Crawford recommends a hell with a low-cut front that reveals "to cleavage."
The Size Illusionist: Be aware of proportions. If you're a "full figured" woman, Crawford suggests a high platform-that will even out your silhouette, while offering a flattering boost in height.
The Sure-Fire Shoe: According to Crawford, no matter your size, shape or color, wedges are a must for accentuating great legs! Wedges are versatile enough to complement most of your wardrobe- from sun dresses to the micro mini- and are in style every season.
Step 6: Ready to Go… from Leg to Toe!– Now that your legs are smooth and you've found the perfect shoes, you're ready to strut with confidence. Be sure to keep your legs close together and as straight as possible; imagine a straight line in front of you, and walk to it. Place each step in front of the other so you loo and feel like you're walking the runway.