*Before I start talking about how great these glosses are, I have a tiny request for all of you… I got a new cellphone that actually features a fairly decent camera, and I'd like to start using my own product photos on occasion. The above photo is (obviously) one I took. I'd love if you guys would comment and tell me if you are down with the from-home product photos mixed in with actual images from brand websites, or if you think they've got to go. Thanks in advance!!!*
I'm a total sucker for lip gloss. Barely there pink to vamped out red, I'm willing to try them all. And while it's rare for me to find a gloss I really hate- the color has to be terrible, the formulation has to be super sticky, or it has to smell bad- I have and try so many that it's also rare for a gloss to really stand out.
Enter CoverGirl Wetslicks Amazemint. I'd heard about these babies when they first came out but then forgot about them in the way I often do when things don't repeatedly jump out in front of me. Fortunately, I remembered how neat they sounded and was able to score a few for sampling.
What's so unique about these glosses is that they're infused with Crest Peppermint Oil, which makes them tingly and gives them a refreshing, minty smell. So, if it's been a few hours since you brushed your teeth and there's no gum in sight, you can now freshen your breath just by wearing lip gloss! They're also formulated to make your teeth look whiter, for a double bonus.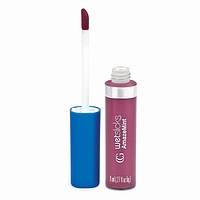 There are 13 Shades of Wetslicks available; I tried Slap Happy, Happy Hour, and Plum Crazy (pictured). The latter was my favorite; it's actually one of the two shades recommended to me right on the site (there's a neat little feature on the page I linked to where you fill in your hair/eye/skin color for personalized picks). While I do love the other two shades, Plum Crazy has been hanging out in my purse as a go-to color since the glosses arrived.
The site says that they feel like a balm, which I don't agree with completely- they're more like a cross between a really moisturizing lip balm and a lip gloss. They aren't sticky, but they have a little bit of that slick gloss feel. My lips definitely do feel more moisturized after wearing them than a normal lip gloss, but this formulation still packs all of the shine!
Now is an awesome time to pick up the Amazemint Glosses at Drugstore.com– each gloss is only $6.25 AND they're running a BOGO event!