Since moving to Boston, the one thing I really miss the most is having Girl's Night Out. There's so much to do and see here, but my ladies are either back home or spread across the country attending school… So there's no one to enjoy the boutiques, cafes, and beauty bars with! However, I've got a few suggestions to make your Girl's Night absolutely gorgeous!
Of course, before you even head out of the house, you're going to want to make sure you look great! One surefire way to feel like a million bucks is to try a new look-without investing all that cash. Fortunately, Max Factor has some gorgeous new offerings to glam up your night before you even hit the sidewalk!
Lately, the look I've really wanted to sport at night is dramatic lips. It's all about the catwalk, because baby, I've got heads to turn! Lipstick is a definite guilty pleasure of mine, but since money's tight, splurging on $20 designer lipsticks isn't even close to being in my budget! Thankfully, Max Factor has the answer: Vivid Impact Lip Color! Each of the 20 gorgeous shades is only $7.98 (prices may vary slightly by location), which means it won't spend all your going out money before the sun even sets!
Before we talk colors, though, let me tell you a little bit about the product (and why I love it)! In the words of Max Factor's marketing department, "The ultra rich, pure pigment lipcolor offers head-turning looks from classic to bold, but always vivid." I'm 100% behind their tagline; each of the shades I've tried has glided on smooth, stayed put, and left my lips feeling pretty, not parched. The silky application and glossy finish is due to a formula enriched with shea butter, which moisturizes and conditions lips; the healthier your lips, the better your lipstick will look. Since the formulation really sinks into my lips, the colors have definitely lived up to my expectations: I ate dinner and frequently utilized my napkin, but still had a gorgeous pout after all was said and done!
So, which shade is my favorite? It's a toss up, really. Gilty Rose and Wine Not have both totally grabbed my attention, and I can't really pick a winner; both are equally dark and luxurious. Gilty Rose is listed under the Beige/Brown category, but on me, it's a really stunning deep berry color, while Wine not really does give a slightly intoxicated, just bitten stain to my pout. Since I can't find a picture on Max Factor's site that really does either shade justice, here's a camera phone photo that actually captures the shades pretty well (sorry for the low quality, but just look at those colors!).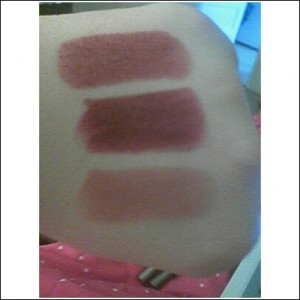 (From Top-Bottom: Gilty Rose, Wine Not, Vegas Baby)
Now, just because I didn't mention Vegas, Baby above doesn't mean I don't adore it! However, it's the only shade I really believe to BELONG in the Beige/Brown category. I'm super pale and think it looks stunning, but I'm saving my recommendation for all the ladies who are already working on their gorgeous summer tans, or are already blessed with darker skin. My cellphone doesn't do any justice to the gorgeous hue, so I definitely suggest checking it out in person! Max Factor has made in-store color selection really easy with these tubes, actually, because (as you can see in the product photo above) each tube has a clear bottom that shows you the true color of each lipstick! I'm all about truth in advertising, so I think the new packaging rocks!
Another really cool factor of this line is that several of the shades have matching lip liners! Gilty Rose and Vegas, Baby both have their own liners, as do: Pin-Up Pink, Rose Rage, Ms. Terious, Ablaze, Hipster, and Ms. Right. Taking the guesswork out of matching up your shades; what a nice touch! Of course, the liners and lipsticks are definitely up for mixing and matching, so don't worry if you're lusting after a shade that doesn't have it's own pencil twin!
*EDIT*  I'm sorry ladies, but apparently my list of retailers wasn't quite correct!  Here's the right info:  Max Factor Vivid Impact products are available at Wal*Mart, Ulta, and Drugstore.com. You can also check the products out online at Max Factor's site. It's time to figure it out… What's your shade?