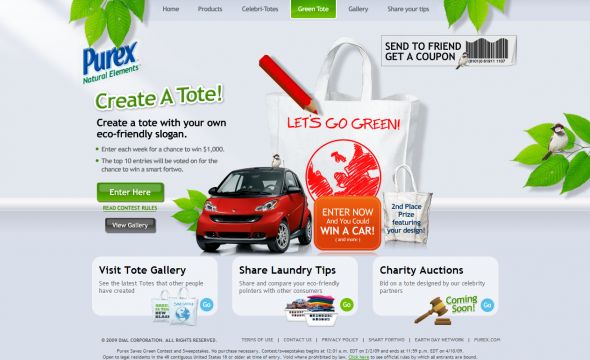 Home Care brand Purex has moved into their second year of the Purex Saves Green Program, and they want you to participate!
"Oscar-winning actress Marcia Gay Harden is helping to spread the word on how we can have a safer and healthier environment. Today, Marcia and Purex Natural Elements kicked off a nationwide eco-conscious auction to benefit the Earth Day Network (EDN), which grew from the original Earth Day in 1970 and seeks to grow and diversify the environmental movement worldwide. The auction starts on March 4, 2009 and will be closed on April 29, 2009.
Marcia, along with many other environmentally-savvy celebrities, each designed their own reusable tote bags to be auctioned off on www.purexsavesgreen.com with all of the proceeds being donated to EDN. This year's celebrity tote bag designers include Martha Stewart, Chevy Chase, Ed Begley, Jr., Dan Aykroyd, Paul Shaffer, Tamara Tunie and Tom and Jessica Bergeron.
Consumers can also get in on the action by submitting their own reusable tote bag designs on the Web site. Americans will vote on their favorite of the top 10 designs and the winner will receive a smart fortwo car. Purex Natural Elements will also donate an additional $30,000 to EDN."
Head over to the site now and check out products, read more about the campaign, enter the tote designing contest, bid on a celebrity designed tote, share laundry tips, or email a coupon to a friend! Who would have thought a laundry detergent could be so entertaining?
The tote in the picture is Harden's design, and actually my favorite. I know it's simple, but it's so chic! Bidders agree, as it's currently going for $250-the most of any bag!