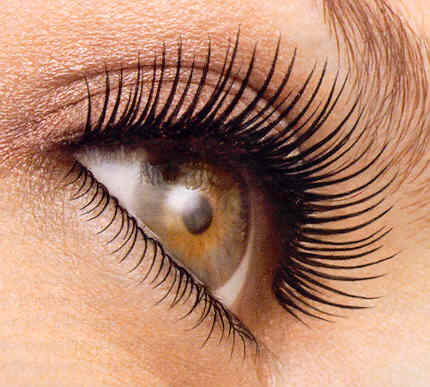 No matter how awesome your makeup may look, lackluster lashes will totally ruin the effect! Here are some great tips from TotalBeauty.com that will ensure your lashes are leading your look, not dragging it down!
1. If you have a traditional brush wand, improve lash separation while applying mascara by moving the wand in a swift, zig-zag fashion from lash root to tip as opposed to one sweeping motion.
2. Don't forget to coat your inner lashes. "Many women only apply mascara to the middle and outer corners of their lashes," says Hezekiah. This can give off an illusion that changes your eye shape, making them look closer together or more narrow. Think of your lashes as a fan with three sections. You want to amplify every section of the fan — middle, outer side and inner side — to really open up your eyes and flatter your eye shape.
3. Dab the tip of your mascara on a tissue to get rid of the glob that tends to form there. This will keep you from getting uneven, goopy product distribution, especially on your shorter lashes.
4. It's OK to bend your wand to help you reach smaller lashes. (You can always bend it back carefully.) It's a great, cost-effective option if you don't want to buy a separate mascara with a bent-wand applicator.
5. If you use a lash primer, particularly a white one, wait 10-30 seconds for the primer to dry, then apply your mascara. This keeps the color of your mascara from looking "diluted" (i.e. gray instead of black).
6. When applying multiple coats of mascara, avoid putting several coats on one eye at a time. You'll end up with "one really thick coat." Instead, get a more defined finish by applying one coat on your left eye, then switching to your right, then going back to your left, and so on. This allows each coat a little necessary time to set (but not completely dry) before you put on the next coat.
7. Clear mascara not only gives you that "no-makeup makeup" look but also makes a great brow gel. Fill in your brows with color if you like, then sweep a coat of clear mascara over them to keep them in place.
8. Mascara generally lasts about three months, but the biggest sign that you need a new mascara is when "it stops performing like the day it did when you first got it," Hezekiah says.
9. If you've just gotten over any illness that affects your eyes (a cold that causes red, swollen eyes counts), replace the germ-filled mascara you were using. "Germs and bacteria can get into the tube and can contaminate the mascara," Hezekiah says. "The user keeps putting that mascara back into the eye, so your illness lasts longer."
10. Don't be sad when you have to throw out your mascara. You can always recycle the wand by cleaning it very well with makeup remover, then reusing it as a very effective lash separation brush or a brow brush.
So, what are your favorite mascaras? Any tricks not on the list that should be?