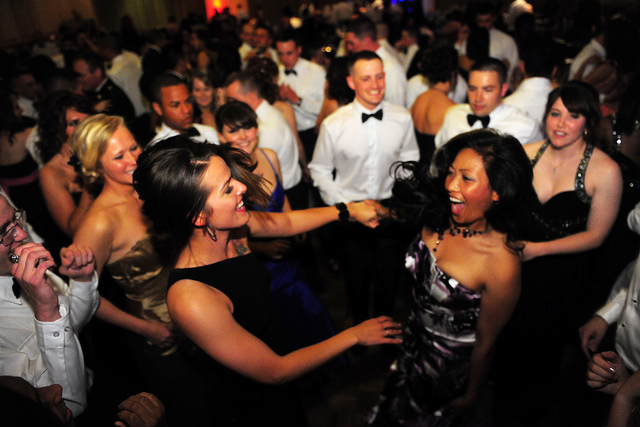 For most women, dressing up for a 'black-tie' affair is a daunting task. You are confused about whether you need to go for a floor-length gown or wear that new favorite of yours, the cocktail dress you recently purchased.
'Black-tie' events usually start after 6 pm and require men to come dressed in smart tuxedos. Though the attire for ladies is not specified, it is pertinent you wear something that goes with the nature of the function.
Here are a few tips for you to make dressing up for the gala easier.
1. A Long Gown Is My Only Option?
Long and dressy gowns used to be customary, but that's no longer the case. If you are not particularly a 'gown person' or are not interested in purchasing a gown for a one-off occasion, a beautiful cocktail dress can perfectly serve your purpose.
Make sure your dress is capable of holding its own in a formal gathering comprising mainly men in tuxedoes and women in gowns. If you are confident on that count, rest assured your cocktail dress will work fine.
Dressy separates like a beautiful silk top and a long satin skirt also look great for formal evenings, but many etiquette experts advise them for 'black-tie optional' events only.
Also, there are a few rules you may do well to abide by. Your dress should not be too revealing and the cocktail dress should ideally not have a too high a hemline.
2. What Color Should You Go For?
Ankle-length gowns look beautiful in light and pastel shades. Gowns have a very flattering and inherently dressy silhouette, so you can keep the colors toned down.
Peach, cream, pale pink and blush are great colors for gowns. Deep red, plum and darker shades also work beautifully. While wearing dark colors keep the accessories and embellishments to a minimum. This will give you a classy and elegant look.
Cocktail dresses in rich and attractive colors are apt for black-tie events and formal parties. Metallics like gold and silver, beige, brown and jewel tones like emerald green, fuchsia, pink and red are among the all-time favorites. A black cocktail dress can never go wrong, and don't forget to add the right amount of glamor with chic accessories.
3. Accessorize with Care
Accessories can make or mar your look. So be careful with what you choose.
A sparkly pair of earrings or studs, a bracelet, and a delicate necklace will complete and complement your look. With intricate and heavy gowns, jewelry should always be kept simple.
If you are looking to dress up your outfit, you can go for big chandelier earrings or a statement neckpiece. Oversized collars and intricate bib necklaces are trending now. But make sure you don't overdo the look. Statement pieces look great with simple dresses and you should wear them either alone or with minimal accessories.
An evening bag or a clutch in silk, satin, velvet or brocade will look great with your formal attire. Embellished and fringed clutches are also in vogue. Red, gold or black clutches work well with any outfit.
4. Get Your Shoes Right
Killer heels add oomph and glamor like nothing else, and most of us consider them an absolute must in party wear. If you plan to wear high heels make sure you are comfortable in them. Keep in mind you may have to stand for long periods of time and it will become difficult to enjoy the evening if your feet are hurting like hell in your shoes.
Kitten heels make you look sexy without hurting your feet.
While wearing high heels, ensure the hem of your gown barely touches the ground. If you have a long train, short heels will go unnoticed.
Platform pumps in nude and black look great, and are high on comfort as well. Strappy stilettoes are perfect, provided you have mastered the art of balancing in them.
So pick and choose a style that is sexy and comfortable, and goes well with your outfit.
5. Don't Forget the Basics
If you are wearing a body-hugging outfit, make sure you wear the right kind of underwear or the unflattering panty-lines will ruin your dress. Silk, satin and other slinky fabrics require special care because they are smooth and clingy and accentuate the visible panty lines.
If you are bust-heavy, a backless dress may not be the right choice.
Make sure you try out the gown or the cocktail dress and find the perfect fit that is flattering, classy and chic. Custom-made dresses can be made to fit to perfection, and you can have one in your favorite color as well! So do give them a try.
6. Hair and Make-up Maketh a Lady
Old etiquette may demand you to wear your hair up, but you can go with a style that you are comfortable with. If you feel you look good with your hair down, keep it so by all means. Have a professional blow-dry and you are ready to go. You can go for soft waves or curls which look charming and graceful.
If you are going for an up-do, a chignon or a bun will be apt. Add wispy tendrils of hair to frame your face beautifully and you are ready to rock!
You can keep the make-up minimal because gowns and cocktail dresses are quite the attention-grabbers by themselves. A freshly done manicure and pedicure are a must. Well-groomed hands and feet are as essential as make-up, if not more.
A great primer, suitable foundation, and some light luster with a dab of blush will make you look fresh and glowing.
You can choose to highlight your best feature, like your eyes or lips, and keep the rest of the make-up minimal. A bright-colored lipstick or beautifully done smoky eyes will do the trick.
7. Round It off with the Best
Invest in a chic and classy coat. It will go with your lovely gown and complete the look.
A designer fur-coat is desirable, so is a beautiful pashmina or a silk shawl.
Don't pull out your plaid coat from the closet because it just won't work.
Conclusion
Black-tie events are an opportunity to dress up, look good and pamper yourself, so don't miss out on an opportunity to do so, and do remember to have fun!
Author Bio: Millie Rainer writes about a variety of things such as DIY, hospitality, fashion, and tech. She is looking to build up her authority as a blogger – so she is excited to explore new topics. Follow her on Twitter @MillieRainer.