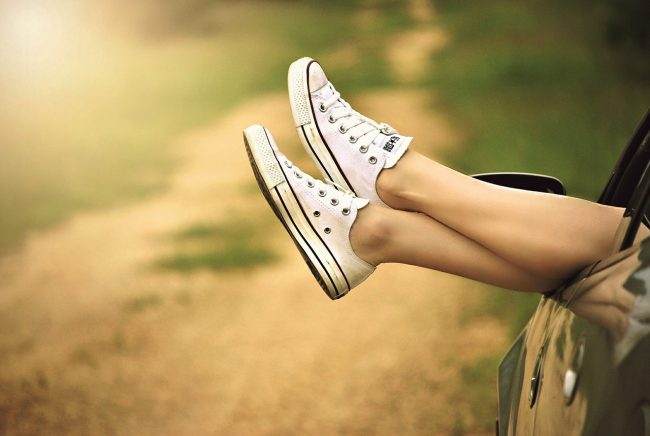 Summer is our favorite time of the year — the weather's good, you're happy and the world feel's great. If you are popular, you might get invited to lots of cool events like beach parties, bbq's, and festivals. The only problem is picking the perfect outfit for each invite in your social calendar!
So here are four celeb style hacks for the summer to provide inspiration.
Jeans and t-shirt
Model Gigi Hadid looks great in whatever she wears.
And to prove the point, she stepped out in New York in a simple ensemble with blue cropped jeans, plain white t-shirt and ravishing red mules that complimented a snazzy red satchel.
This style feels comfortable and looks great when you're flitting between appointments on city streets — it oozes effortless chic.
And if the heels don't float your boat they can be swapped for a subtle pair of sneakers.
Slip dress and baseball shoes
If you've been invited to a trendy tea party by some arty friends you'll want to make sure your outfit ticks all the right boxes.
And if you turn up in hot pants and platform heels you might not make it past the fashion police at the door.
So take a tip from the Boho brilliance of Brit TV star Alexa Chung — her pink and red nightie dress matched with baseball boots somehow combines kooky and glamorous.
So when you're hanging with the hipsters, look for an outfit that's laid back but has just enough edge to raise eyebrows.
Party dress
When you get a hot ticket to the best party of the summer you want a style that sizzles. But it's easy to misjudge the glamour level when attending a daytime event. Actress and rock royalty Zoe Kravitz got it right when she stepped out in the Parisian sun in a pale peach maxi dress with a delicate strappy bodice.
Zoe manages to retain elements of her individuality while dressing appropriately — her hair's usually pinned back in practical braids and she wears a touch of makeup or none at all.
Take a look at the range of summer party dresses from online designers like AX Paris if you like this look. You might just find the perfect match for your own event.
Sports style
If you plan to bust some moves at a barbecue or while getting your music festival fix then you might want to think about a sports-influenced outfit. But don't reach for the cheerleader's costume quite yet — consider something with a little more street cred. Singer Charli XCX was recently spotted performing in a full tracksuit with matching crop-top and trainers — she looked fierce and fabulous. This outfit is comfy enough to allow you to dance the night away or chill out with a drink by the bar or poolside. Match it with a pair of sexy shades and a necklace with just enough bling to get those paparazzi snapping.
Formulating on-point seasonal style is simple with a little prior planning and these four celeb style hacks for the summer will make you the toast of the town.
What's your favorite summer style? Share your stories in the comments section.