Aviator sunglasses evolved to play a significant role in airplanes and eventually military operations. Today, these sunglasses are more popular than ever, making fashion statements among celebrities, regularly make appearances on U.S. military personnel and are an all-time favorite among trendsetters.
In the early 20th century, test pilots began flying into higher altitudes. As they began exploring Mount Everest, they faced temperatures that teetered lowered than minus-80 degrees Fahrenheit. To help these brave, pioneering aviators survive these frosty blasts they wore leather hoods. They also wore fur-lined goggles, which helped provide insulation for their eyes. Aviators were warned that if they lifted these goggles, they risked instant death.
In 1920, Shorty Schroeder embarked on a flight to Mount Everest. His goggles, fogging up from the frigid temperatures, forced him to make a monumental decision. Pulling the goggles off, his vision began to blur and within just moments his eyes froze over. Remarkably, Schroeder was able to land the plane.
John Macready, who helped removed Schroeder from the cockpit, embarked on this same journey a month later. Macready, depending on the same goggles as Schroeder had, realized that they were not dark enough to help eliminate the penetrating "bright sunlight in the upper atmosphere that hurt his eyes."
Macready began working with Bausch & Lomb, designing special aviator goggles that were better suited to protect pilots' eyes in the stratosphere. Macready's daughter said, "My dad gave Bausch & Lomb the original shape, tint and fit" of aviator lenses.
The Army Air Corps worked with Bausch & Lomb to create sunglasses that featured lightweight gold wire metal frames and teardrop-shaped lenses. These frames featured dark green tempered glass lenses and were the G-15 model prototype.
In the 1940s, Bausch & Lomb was ready to advertise their Ray Ban sunglasses. Promising "real scientific glare protection," these new sunglasses directly targeted golfers and anglers. Capturing the essence of teardrop shape aviator goggles and frames that highlighted a biplane's struts, these sunglasses were not yet nicknamed aviators. Sold in sporting equipment stores and Montgomery Ward, these sunglasses were pricey – costing several dollars – when other sunglass models cost a quarter.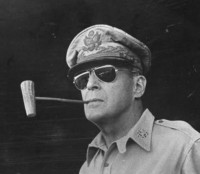 During World War II, General Douglas MacArthur, aviators and military personnel received Ray Bans as standard issue equipment. Thus, these rapidly became dubbed "aviators." World War II truly launched Ray Bay Aviator sunglasses, giving them the necessary recognition to succeed back home in the states.
MacArthur, photographed walking the beaches of the Philippines during World War II, was wearing his iconic Aviator sunglasses. This picture created a demand back home in the states for Aviator sunglasses.
After World War II, civilians adopted Aviators. In fact, Marlon Brandon wore Aviators in his Hollywood rendition of "The Wild One," which elevated Aviators to an entirely new and sexy level. In fact, McArthur now has a sunglass line named after him.
In the 1970s, Aviators experienced a feminine rebrand and some versions included rhinestones, spangles and pink. Some of the most iconic celebrities and faces of the 20th centuries become synonymous with wearing aviators, including Elvis, Paul McCartney, Ringo Star, Freddie Mercury, Tom Cruise, Val Kilmer, Hunter S. Thompson, Clint Eastwood, Bob Dylan, Andy Warhol and Gloria Steinem. In fact, criminals also donned this popular style, such as the Unabomber, who eluded authorities for decades.
The 1980s brought a new Aviator style into fashion. Tucker Viemeister designed aviators with new twist – sepia lenses. These were marked under the brand name Serengeti. These ultimately helped to make lighter lens colors a fashion staple among the Aviator brand. The original Aviators with dark black lenses are still among the most popular styles, portraying an aloofness that is simply dark and foreboding.
"Top Gun" helped Aviator sales soar in 1986, catching the attention of a new generation. It helped take Aviator sunglasses back to their military roots, renewing energy for the military and fighter pilots.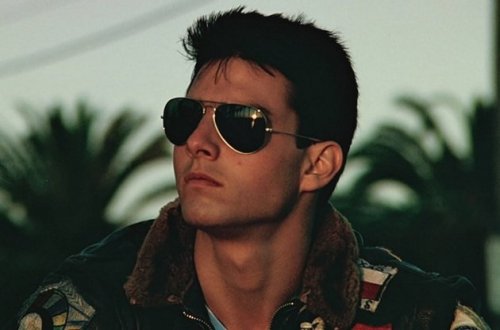 In 2003, Ray Ban further expanded their offerings by including Ray-Ban Optical for prescription lenses. They also created a line for children, Ray-Bay Junior, which is the first collection dedicated to kids between the ages of 8 to 12 years. Ray-Ban Junior has also expanded their premium collection to include titanium models that are hypoallergenic, yet lightweight and sturdy. Many Aviator styles also offer similar types and styles.
Ray Ban has consistently reinvented their company, which is why their history spans more than 80 years. Their creative marketing platform allows them to be a leader among unisex sunglasses. Additionally, aviators have multi-use functions, when makes them ideal for outdoor sports as well as fashion.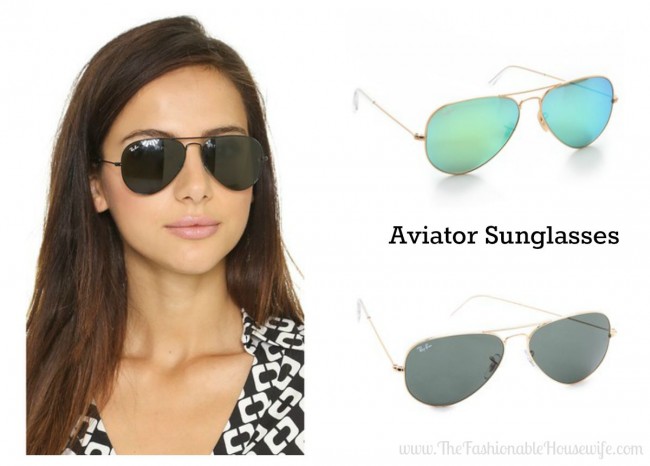 Today, the distinguished aviator frame is the preferred choice of the U.S. military. In fact, nearly all pilots wear some type of sunglasses when flying during the day. The Federal Aviation Administration recommends a gray tint, large lenses and ultimately, aviators are the most popular choice among modern-day pilots.
For more information, visit Olympic Eyewear.