Often thought to be the color of romance, of blushed cheeks and girlishness, fashion designers have somewhat surprisingly hailed pink as the color of the year. We say surprisingly, as its thought that women can tend to have a slight aversion to the color at the risk of looking trivial and not-to-be-taken-seriously, especially in the workplace. Elle Woods rocked a pink ensemble in Legally Blonde and totally won the case, though. And Amal Clooney has been spotted visiting Columbia Law School in a bubble-gum pink Oscar de la Renta power suit. So can pink be powerful?
Well, believe it or not, pink was thought to be the color of strength in the Victorian times up until World War II. As well as this, color therapists believe that powerful women don't see pink as a frivolous and naive color, but use it rather as a representation of their feminine authority. The trick, apparently, is to wear the color with confidence.
Here are some more tips to remember when dressing powerfully in pink:
Don't overdo it
Whilst a matching Chanel-esque suit in powder pink can look charming and classic, if you're new to the 'powerful pink' game, maybe don't go in all bubblegums blazing in head to toe pink. Instead, add some power pink accessories or choose one item of clothing that is a strong hue of pink and team with muted, more neutral colors.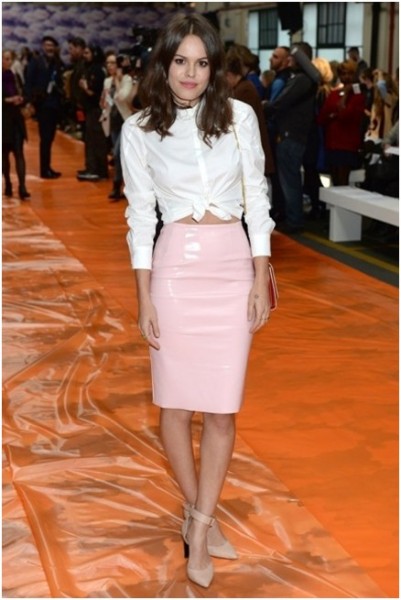 Choose your shade
Red toned pinks generally look more serious and are easier to pull off without the worry of looking too much like Barbie.
Opt for a pale pink for a romantic look which is soft and elegant. The paler the pink, the more suited it is, generally, to a serious occasion, such as a meeting or formal gatherings such as for a Christening.
Blue toned pinks are great for looking bright on a night out, and look stunning with an olive skinned base. Blue toned pinks are generally more associated with the fun-loving gal, so we'd say stick to the bar or fun occasion when wearing a lot of this shade together.
Salmon pinks make a great 'dressed down' shade. Just make sure the color isn't too light to avoid a washed out appearance on paler skin tones.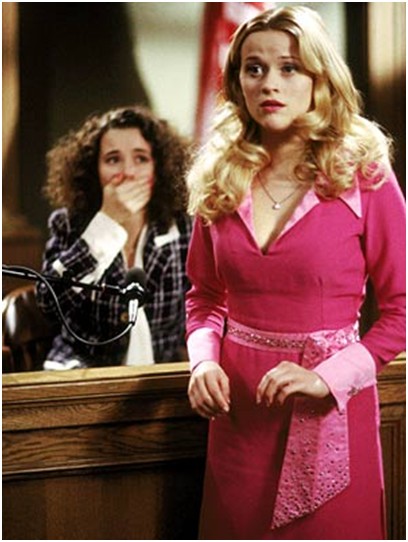 Don't be scared of prints
The trick here, as with prints in general, is to pair a bold print with coordinating block color. Try a pink pattern which combines a few colors so that this piece becomes more versatile and will pair well with other colors too. A pink tweed suit is quite nice too!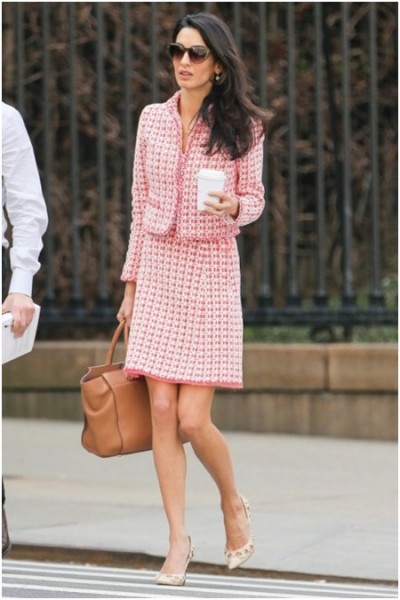 Surprise elements
Also a great way to wear pink is to incorporate it into classic styled outfits. How about a chic tailored LBD (BTW, some gorgeous ones can be found here) with some hot pink stilettos? Fierce! Or a crisp white fitted blouse with a fuchsia pencil skirt and some nude heels? Yes! Include pink in your statement pieces for a surprise element to your classic and smart styles. For additional surprise match with your baby! We suggest getting some affordable pink onezies.
As we've said before, the most important thing to remember when wanting to look powerful in pink is that it's all about wearing with confidence. Be unapologetic ally bold, and no one will ever question your color choices. So, neither should you!