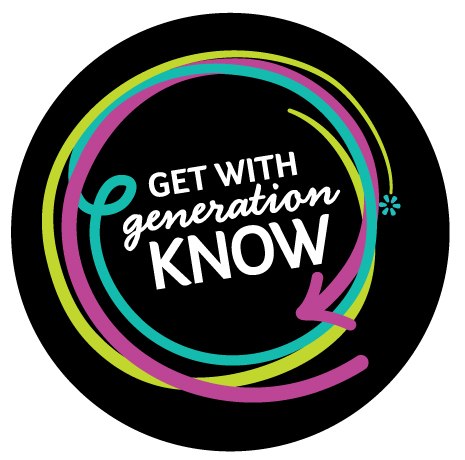 I've always been a fan of Khloe Kardashin and when Kotex contacted me about doing an interview with her I jumped on the chance. I was especially thrilled when they told me all about a brand new program that is designed to help young girls learn more about their health as young adults and their changing bodies.
Khloe teamed up with U by Kotex to launch Generation Know. Together this program is empowering girls to be the first generation committed to learning more about their health and bodies and to share that knowledge with others.
 Generation Know.com features an online hub that is a fun central location for girls to get the facts, learn from experts and get involved in projects designed to create social change.
For every girl that gets involved with Generation Know by visiting www.generationknow.com, U by Kotex will donate $1, up to $500,000, to Girls For A Change, a national nonprofit organization, to fund educational trainings across the country and help girls create social change within their communities.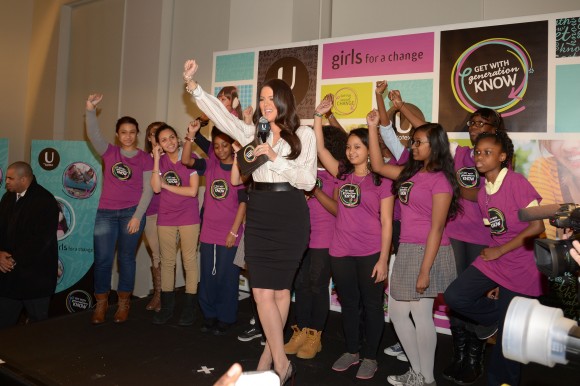 What do you love about this program? Why should people get involved with it? What made you want to get involved with this program?
K: About three years ago I started partnering with U by Kotex. For me, in order to partner with someone, it has to be an organic fit. The empowerment of women, especially young women, and providing people with knowledge about their body and to be aware about your health is so important to me. I believe in that so much and I just felt like this was the perfect fit for me.
I really believe in the organization. I love that you can go to GenerationKnow.com and bust myths. This is such a social media world with people living behind computer screens. If you are not comfortable to ever ask anybody a question in person that's what U by Kotex offers at GenerationKnow.com, an outlet where you are allowed to share your story.  You're allowed to bust myths, you're allowed to go on and browse. There are so many personal things that people are not sure of and even if you're too embarrassed to say it to another person you can go on this website and it will answer those questions for you. This is something that is so remarkable; you don't have to be shy.
What is one health myth you wish you had known when you were a teenager?
K: I used to be really scared of Toxic Shock Syndrome, because I'd read about it on the tampon boxes. I'm very paranoid and that used to just freak me out. I used to sit in class and worry about how long until I would have to go to the bathroom. I didn't really understand the details of that because I was younger and too afraid to ask. That is something I wish I asked more questions about instead of just reading it on the box of tampons, but I also feel like no one ever addresses that. It's was only provided in the box as a way to fend for yourself.  It wasn't clear.
Why do you think young girls know next to nothing about their bodies?
K: It depends on the age range. I think that when you're young you feel like you know everything, you have no fear, you don't ask questions, and don't care. You feel like nothing will ever happen to you.  I believe in going to the gynecologist every 6 months to a year for your check-ups.  You need to be in the know.  My sister Kim encouraged me to go see a fertility doctor to check out my body and I was resilient to that because it was out of fear, but thank God I went because now I'm knowledgeable about it. It makes you feel like you need to be aware of your body.  If not, you can't fix anything. I don't know why people don't know much about their bodies, maybe it's because of embarrassment.  Again that's why I love Generation Know – because you have an avenue to ask these questions and you can hide behind the computer screen to do so.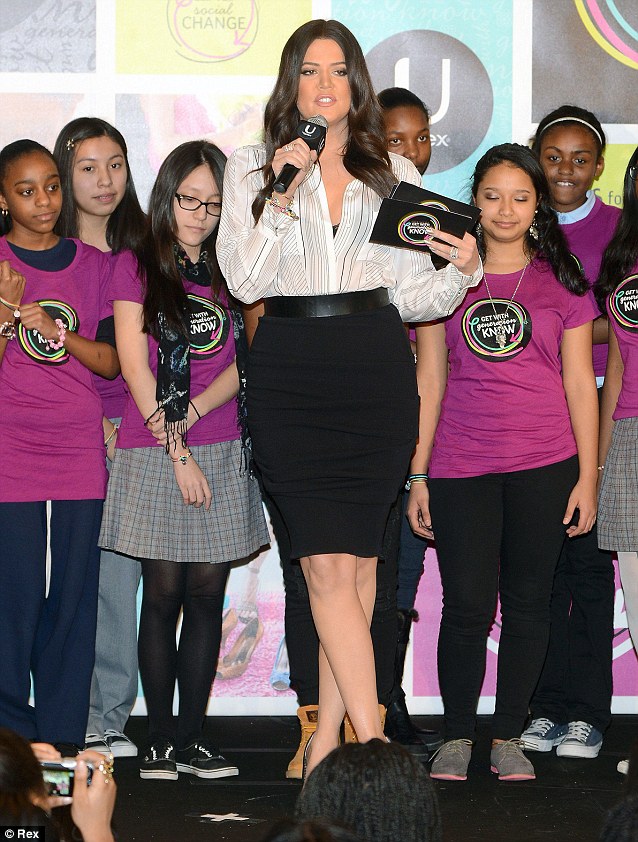 What was it like growing up in a family with almost all girls? Were you and your sisters/mom close? Did you help one another out as you reached puberty and had issues with your changing bodies? Or were you left to figure it all out on your own?
K:  I was at my grandmother's house in Palm Springs with my brother and I was confused with what was going on. We were at the movies and I would not talk to my grandmother. I remember I was in the bathroom for the entire movie. I didn't know what to do and my mom and my sisters weren't there. We didn't have cell phones at the time and I remember after driving back to L.A. I told my mom.  She helped me, showed me what to do, and I didn't feel awkward about it. I was just more embarrassed that it happened at my grandmother's house. My mom has always been open, but my sisters would never explain those types of things because it was "cool" for them.  They would ask my dad to go and get them tampons and I was never that comfortable at that age. They were much older than me so they never really talked to me about it. They were just more comfortable.
Why do you think girls are so embarrassed to talk about body issues with adults? Any advice for teen girls out there about growing up and watching their bodies change?
K:  That's a great question and I think it's more of a mission, even when it comes to bullying. This is a mission.  Generation Know is a way of life. It's not about visiting the site for a         week and forgetting all about it.  This is a mission to listen to girls no matter what age because even if you're 30, you still may not feel comfortable talking about it. These things you have to be comfortable with.  If you don't know about your body you won't understand what's going on, you won't know if you're feeling changes, and if you should see a doctor. I'm so passionate about women empowerment, women knowing their bodies from head to toe, bullying, and so many things. I feel like this is taboo because, not to place blame, but the older generation, like with my mom's mom, you never spoke about it. It just went unsaid. So with my mom, she'll talk about anything and is so open and honest, but since she was breaking that barrier by starting to talk about it, she was still trying to figure out a way on how to best start those conversations.  Now with each kid (she has 5 daughters) I think it got easier and easier, but since I'm so vocal, honest, and expressive, I think I've taken the reins on that. This shouldn't be taboo, it happens to everybody at some point in their life and I just think that we all need to be knowledgeable about our bodies.
What is something you want your younger sister Kylie to know as she grows up into a beautiful young woman?
K: My sisters are pretty amazing and I think it's because they have such older influences and know they can ask us anything…which they do. Even if they have friends that they think might be doing something bad they tell us. My sister once told me that there was a girl at school and though it was none of her business, she told her that she cuts herself, that it makes her feel good.  I asked her if she told anyone.  My sister said that she was afraid to tell anyone, but she told me and I called the parents. The mom got mad at me because she didn't believe me, but when she saw her daughter, she thanked me. Even when it comes to bullying — I don't want people to turn a blind eye.   We need to take a stand or help in any way.  Like with Generation Know, I just really respect people that are here to help.
 What is something you wish you had known when you hit the teenage years?
K: I don't know, just that girls can be mean. They might make fun of you for asking a question even if they don't know the answer, but that's just their defense mechanism.
You've had some big changes in your career lately as well, would you like to share with us about your new job as the x-factor host and your new clothing/perfume line? Anything you are really excited about this coming year?
 K: I'm always excited to be working and doing more TV shows.  We start filming Keeping Up with the Kardashians in February. As crazy as it is, I'm so blessed that I get to be with my family, watch my nephew and my niece, and be there for Kim's pregnancy.  We get to be with each other.  When you're older you start spending time with your own families, but I'm blessed. Hopefully X-Factor will start back up in the spring and they can figure out who the new judges are. Kardashian Collection and everything just keeps growing.
Thank you so much for your time and great answers to these questions Khloe! I wish you all the best with juggling all the many "hats" that you wear.
If you want to learn more about Generation Know and this incredible program then visit-Â GenerationKnow.com