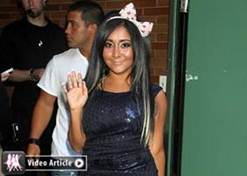 Snookie was spotted a ABC studios last week, and guess what? Yes, she was actually sporting a hairstyle other then her "poof", Snooki showed off her new blonde highlights from Great Lengths Extensions.
Stopping by Gemini 14 Salon in New York City, Great Lengths certified stylist, Bradley Moreland added blonde and purple Great Lengths 100% human hair Extensions that offer a gentle and safe application and wide array of hair colors. When wearing Great Lengths, the integrity of one's natural strands is never compromised, so the only risk one takes by having them is looking better than before.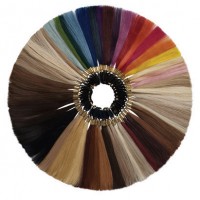 Ok, I'll admit it! Snookie looked pretty good, but I don't exactly have the kinda dough to get highlights every week. (I actually have natural blonde highlights!) But what about when I want to add multi-colored hair extensions? (yes I do wear blue highlights in my hair!) That's where POP saves the day! They sell totally awesome hair pieces that you can put in your hair and get Snookie's look for 75% less! Plus, the hair pieces can be used over and over again! And, I love that the hair extensions look 100% real! I shocked my neighbor last week when I walked outside with blue in my hair! She just stared and shook her head! (probably thinking kid's these years! ROFL!)
Don't believe me? Check POP on the web! And by the way, the hair pieces are only $7.95 per extension!