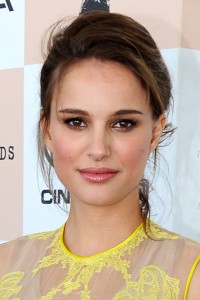 Natalie pretty much nailed effortless here, everything is hitting right. The dress, the hair, the make-up, and even the bump is photographing perfectly. The pregnancy glow is part of why she looks so flawless but what I'm looking at is the hair and make-up.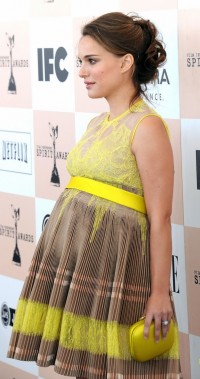 Hair: Natalie chose a wispy and romantic undone bun. To prevent it from getting unruly  she curled the ends so that they would stay snug with the bun.
To recreate this look:
1.) Separate blow-dried hair into top and bottom halves.
2.) Next twist the top half at the crown and secure with a sturdy clip. wrap the ends of the top half around a curling iron to give them some shape.
3.) Do a french twist on the bottom half and clip into place.
4.) Curl any remaining wisps with a curling iron.
5.) Finish with hairspray
Make-up: I love how warm her make-up is, and while expertly executed, it doesn't look forced. You can see the neutral pink pairs well with her flawless face, and it neither overpowers or washes out her skin tone. Her eyes are well defined, but not smudgy or dark.
To recreate this look:
1.) Swipe a tinted moisturizer onto a clean face and blend in evenly.
2.) Dust a rosy bronzer onto the apples of the cheeks (don't overdo it, just a light touch!)
3.) Apply a pearly sand colored eye shadow onto the inner corners of the eye and blend it with a light brown eye shadow in the crease.
4.) line the top and bottom lash lines with a brown-black eye liner, and top with mascara (two coats on top only).
5.) Finally apply a rosy pink lip gloss to the lips.
There you have it!
What do you think of Natalie's Look?
xox,
Andrea
Photo credit: Getty Images & Just Jared