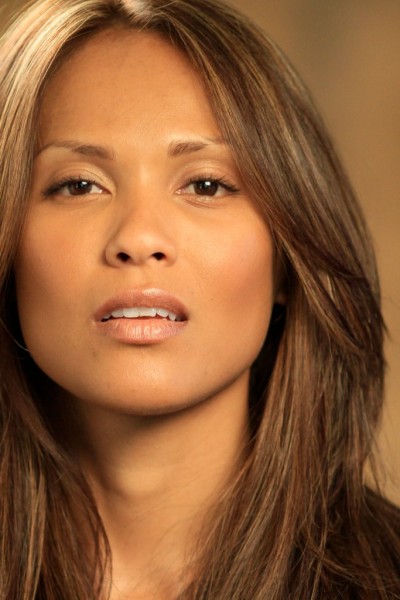 Actress Lesley Ann Brandt is, in a word: Awesome.
She has been an IT recruitment worker, a model, and a freelance make-up artist for Bobby Brown Cosmetics, all before becoming an actress (oh, and she sings too!). So it isn't too hard to believe, with all she's learned, that she's got a lot to say on beauty and life. In the spirit of research, I sat down with the delightfully charming Spartacus and CSI: NY actress to pick her brain on her beauty habits and more.
Andrea: First things first, what does beauty mean to you? How do you define it?
Lesley: If you had asked me when I was modeling, and surrounded by such aesthetically beautiful people, it would be easy to only see outward beauty. But now, I surround myself with beautiful people who are beautiful inside and out, they are good friends, good parents, true to themselves, and they inspire me. To me it means being confident in yourself, and knowing that just being yourself is beautiful.
Andrea: Who is your role model?
Lesley: My mother, she is always someone who taught me to present myself properly, and put my best foot forward. I was a bit of a tomboy, and she allowed me to go through that phase, because that was a part of my personality. And (in terms of beauty) she taught me to look after my skin from a young age. She is so beautiful naturally, and then if she puts on a tiny bit of make-up, she's even more beautiful. I remember using eye cream in junior high, and it was so funny because, I was trying to be just like her, in the mirror tapping on eye cream.
Andrea: Most important skin tips?
Lesley: Number 1, on the show I am lit beautifully by our Director of Photography. The skin is the largest organ, and it's often the most neglected. So Sunscreen for sure, from forehead to decolletage, and exfoliating once a week is a big one too. Also, in terms of make-up for women of color, evening out skin tone is so important when achieving flawless skin. Bobby Brown has a pigment corrector for women of color. I can't live without my Bobby Brown corrector in Dark Peach.
Andrea: What is a beauty faux pas you've committed and want other women avoid?
Lesley: Oh man! I was in school, and decided I wanted to cut my hair (it was halfway down my back). I remember being torn between buying tickets to a circus show I really wanted to see, or cutting my hair. I chose to cut my hair. My mother asked me if I was sure over and over, but I really wanted to cut my hair. So I went from having long hair to a drastic, Halle Berry short hair, and i cried over it. To make it worse, after two weeks it grew out into this funky 'is it long, is it short?' cut, and I smothered it with gel to try to tame it. So I would say think about these drastic decisions, your hair frames your face, and when it comes to cutting, talk it through with your stylist! Look back at pictures of cuts you've had in the past. Hair is such a big part of a woman's look, I think.
Andrea: So what goes on that hair?
Lesley: Kerastase products! It has been a great range  of products for me. Moroccan Oil is also something I love. I love the smell and how it tames my fly-aways. I get my hair colored professionally, and it is expensive, but drugstores have products that deliver good results too. Just be wary, I had a girlfriend who attempted her own highlights at home once…not good.
Andrea: What is the most important part of your beauty routine?
Lesley: Cleansing and toning. I can feel when my skin gets build up, and so I use the Pumice Peel by Bioelements. It's like an at home microdermabrasion, and I put it on for about 5 minutes massaging. It makes my skin feel so soft, and because of how much make-up I wear at work, and the pollution in LA, cleaning my skin is always a priority.
Andrea: What role does food play? Have you noticed a difference when you eat better?
Lesley: Definitely, I try to get 5 servings of fruit and veggies each day, and stay hydrated with water. I lived in New Zealand which is more humid and balmier and so my skin didn't get so dried out. Here, it is the opposite and I need to stay hydrated and eat healthier.  American is land of fast food and snacks! I remember trying to find a cereal with no sugar in the grocery store, it was ridiculous. When I'm on Spartacus, I try to snack healthy and not go for foods that are man made. When I'm running around, and auditioning it's especially important that I have a healthy snack handy at all times.
Andrea: Stress can also affect your looks, how do you deal with stress?
Lesley: You'll have to ask my mama that! Because I'm always on the phone with her. And here in the States, the reasons for stress are a bit different, since I'm away from my family and friends. Going to the gym helps, I try to be active at least once a day. Lately I've been reading  a lot as well. I just finished reading  "Letters to a Young Sister" (by co-star Hill Harper). Having good girlfriends to talk with helps too.
Andrea: Speaking of being active, you were fierce at Spartacus Gladiator Camp**, are you going back?
Lesley: I loved Gladiator Camp! It really pushes you. That's why I struggle with things like yoga, I need to be pushed.  I'm hoping to find a yoga class that inspires me with a hardcore teacher, because I have no patience for yoga right now. I want to be yelled at, you know? 'Drop and give me twenty!', I need that. That's the reason why I love Barry's Bootcamp, because it gave me the push I needed. At gladiator camp, they didn't really give me any concession for being a girl. I went through what they went through, and (the trainers) were like ' you wanted to do camp…go do camp!'. Your body hates you in the beginning but then muscle memory kicks in, and you get stronger and it transforms you. By the end of it I was keeping up with all the men, it was very cool.
Andrea: Do find your unique look to be a help or a hindrance in your career?
Lesley: I think it's been a help. Hollywood has become very representative of it's audience lately. Now, television shows are being broadcast in so many countries, people want to be able to relate to the characters they're watching. My look is so unique you can limit it to one thing, so I can play different nationalities.The reception I've had here has been wonderful. I have been welcomed very openly, and that's a rare thing so I'm pretty humbled by it. It's a good time to be Lesley Ann right now.
Andrea: Who in your life has been the greatest influence?
Lesley: My grandfather. He passed away during the first season of Spartacus, and all of my humor and goofiness comes from him. Our ability to laugh with and at each other, was how we bonded. He died of cancer, but was smiling and laughing with the nurses right up until the moment he died. He taught me not to take life too seriously and in a way being funny, and happy is a tribute to him and his memory.
Andrea: I heard you sing? Any plans with that? I hear they're looking for people on Glee : )
Lesley: I love to sing, if I wasn't acting, I would hope to be a singer. My family is very musical. I sang at my first holy communion, and did a lot of plays in school. You'll see me singing  along to ballads at the stoplights in my car. I'm loving Pandora right now, I can hear every song any artist has ever made. I would love to do Glee, and anything that would challenge me. But right now, every actor in Hollywood wants to be on Glee.
Andrea: When you look back at this time in your life, what do you hope to have gained from it?
Lesley: I hope I'll get to know myself better. That's what my focus is on, right now. What you think you know about yourself in your teens will so not be the case in your 20's, nor will it be the case in your 30's, 40's, or 50's. I've been working a lot, and it's been a great year for challenging myself. Before acting, I did IT Recruitment and that's a big change, so to come out here and be able to work is a blessing.
Andrea: Ok time for some real, hard-hitting journalism: If you were stranded on a deserted island, what 3 things would you take with you?
Lesley: Ooh, tough call! Sunscreen, water and I want to bring my iphone , but that sounds awful (laughs).
Andrea: I only strand people on islands with wifi, so no worries.
Lesley: Oh well then, I'm bringing my iphone. So I can tweet for help. And order in.
(& check out my review of an affordable dupe of this product!)
Kerastase (I review their Nutritive Masquintense Treatment here)
Letters to a Young Sister by Hill Harper
** Click here to see Lesley Ann dominate at the Spartacus Gladiator Bootcamp (she's at the 1:01 mark!)
Be sure to tune in for the Finale of Spartacus: Gods of the Arena this Friday at 10pm on Starz, and lookout for her as Camille Jordanson on CSI: NY , which airs Fridays on CBS.


By TwitterButtons.com