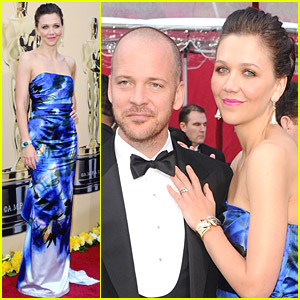 I'm not sure how I feel about Maggie Gyllenhaal's Oscar dress.  I think it looks more like beachwear, not a fancy awards dress.  That being said, I don't think it's ugly.  More importantly, her hair and makeup are flawless!  I've got the inside scoop on how to achieve Gyllenhaal's red carpet look, brought to you by COVERGIRL!  Check it out below.
Maggie Gyllenhaal's Oscar beauty look, by COVERGIRL celebrity makeup artist, Molly R. Stern
"Maggie is the muse of spring. Her Dries Van Noten gown is a swirl of bright colors that fades into white.   For her makeup I wanted to bring out the color of her eyes with some depth while keeping with the brightness of her overall style.
We started off the look by refreshing the skin with Jurlique Rosewater Balancing Mist
.  Then I prepped the skin with shu uemura Intense Vitalizing Concentrate 1 oz
and lightly moisturized with La Mer 'The Moisturizing' Lotion
.
For a flawless complexion I primed Maggie's skin with COVERGIRL & Olay Simply Ageless Serum Primer (out in July!!).
Then I lightly applied some Chantecaille 'Future Skin' Foundation
in the color 'cream' only where she needed it. Then lastly I dusted La Mer powder foundation in 'Ivory' to set the skin for the big night.
For her amber peachy cheeks I used CoverGirl & Olay Simply Ageless Sculpting Blush in Rich Cinnamon
. And dusted some NARS Blush Dolce Vita
on the apples.
For Maggie's eyes of layered copper smoke I based her eye with CoverGirl Smoky ShadowBlast in Bronze Fire
. Next I deepened her lid with NARS Soft Touch Shadow Pencil in Skorpios
. Then I blended into the crease shu uemura Pressed Eye Shadow in N P Brown 810
and lastly I lightly dusted shu uemura Pressed Eye Shadow in N M Brown 860
all over the lid for a golden finish.  For the under eye, I re-smudged the CoverGirl Smoky ShadowBlast in Bronze Fire
under her lash line to bring out the blue of Maggie's eyes.  Finally I defined her lashes by combining brown and black mascara. I painted the lashes with both colors using CoverGirl LashBlast Length Mascara
for perfectly flirty long lashes.
On Maggie's lips I applied NARS Lipstick in Schiap
–it was the perfect shade to finish off the look. Its bright hue matches Maggie's vibrant sense of style and confidence.
The finished product was perfection. She looked like herself.  Authentic, cool and beautiful.  Being a part of Oscar day with a nominee is such an honor. It's like an actress' wedding day with Hollywood.  I love being here. I feel so blessed."