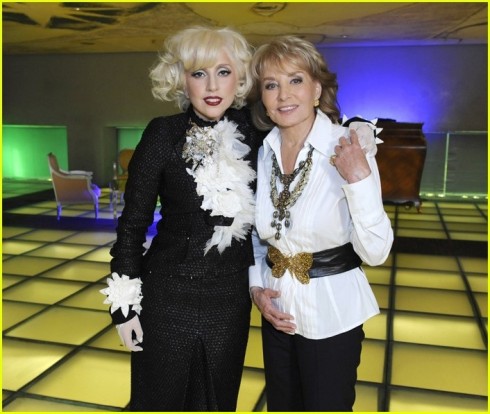 "Breaking news: Lady Gaga and Barbara Walters share a style secret!
Know what it is? One look at the accompanying picture will clue you in immediately: These two women share a real knack for bold accessories. This particular image is from the taping of Barbara Walters Presents: The 10 Most Fascinating People of 2009, and it shows the pop star and the reporter sporting larger-than-life bits and baubles. From Gaga's huge brooch to Babs' oversized necklace and belt, the look this season is definitely not demure."
Now's a great time to start looking for stylish pieces that make a big statement.  Here are a few of my recommendations.
(L-R, Top – Bottom)
Whimsical Cascading Flower Bib Necklace Set $58.95
Filigree Tear Drop Earring $16.60
Sequin Hinged Enamel Bangle $28
Fossil Ring, Brown Ion Plated Mixed Metal Crystal Ball $40