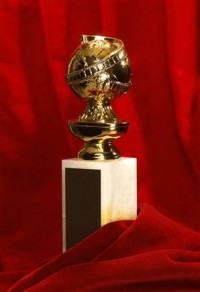 The Golden Globes took place this past weekend – I'm sure plenty of you already know that, but honestly, I had no idea.  It's rare that I watch an awards ceremony; I think the last one I caught involved a Lady Gaga performance, and I was only watching for the Michael Jackson tribute in the first place.  Janet Jackson did a terrible job, in my opinion, and I haven't felt inclined to tune in for any celebrity accolades since then.  I mean, they're lives are fabulous enough as is…  I don't really need to see them getting trophies in million dollar dresses, too.
Of course, I do like to see what the stars are wearing now and then.  I love flipping through Best & Worst dressed lists and adding my own two cents to anyone listening.  Since Golden Globe coverage is everywhere, I won't bore you with a thousand more pictures…  But if you're interested, here are a few celebrities that caught my attention.
I'm a huge "Modern Family" fan, and was excited that Sofia Vergara was in attendance.  UNTIL I saw her, that is.  Vergara is an insanely gorgeous woman, and there's no denying that.  So it must have taken some real effort to make her look…  Average.  I was actually sent the above photos from a PR company in hopes that I'd advertise how to get Vergara's hair style, but seriously?  It looks like she rolled out of bed, through her hair in a disheveled ponytail, wrapped herself the bed covers, and sprinted to the ceremony.  Her stylist on "Modern Family" does a significantly better job, and even her clothing on the show is more appealing.  Ugh!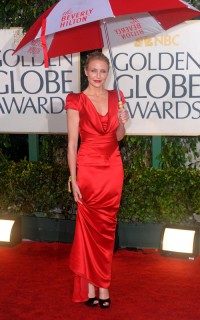 While I could have done without the umbrella (I know it was raining, but something smaller and …  black? would have been great!), I adore Cameron Diaz's fabulous dress.  The neckline is so gorgeous and flattering; I like that there's cleavage coverage behind the plunging v-neck.  The endless slew of celebrity breasts becomes tiring very fast.  Yes, you have boobs – I  know, you know, the whole damn world knows…  You can go ahead and put 'em away now, ladies.
In any case, back to Ms. Diaz!  The coral-y red is right on point with Spring's emerging fashion trends, but who would have expected anything less from one of Charlie's Angels?  I'm a fan of the shoes as well.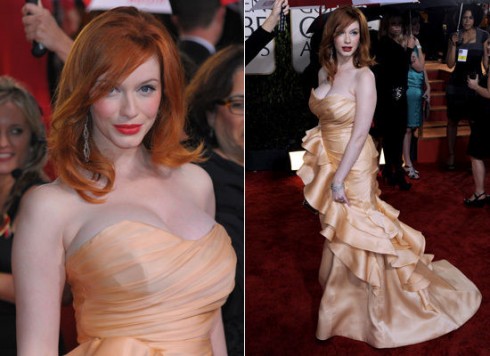 Okay, I have ABSOLUTELY NO IDEA who Christina Hendricks is.  I apologize, but I can't be bothered to find out.  All I know is it's pretty damn ballsy to try that innocent, startled starlet face when you have ALL the goods on display.  Because what compliments ruffles?  Well, aside from apparently MORE ruffles, breasts that look like watermelons.  I suppose the plethora of ruffles is necessary to balance out the trophy shelf she's sporting up top, but seriously?  I'd say something about the makeup, but I can't stop looking at her boobs.
So that's enough Golden Globes coverage for me.  There are five thousand sites currently dishing about the Best & Worst Dressed, so if you're looking for a fix, check them out.  I've got to go stare at Christina's boobs for another half our or so.