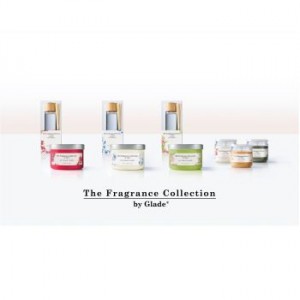 As the school semester's about to end, I'm betting that some of you lovelies are about to move into new apartments. With new apartments come new opportunities, adventures… and smells. While I hope that they're nothing worse than the neighbor baking cookies, in reality, there's a pretty good chance that your new place might stink! The neighbor next to me has an abundance of pets that she apparently feels no need to clean up after, so I totally feel your pain! However, there is a solution! If all the scrubbing and vacuuming you do upon moving in doesn't get rid of the smell, Glade's got you covered. Their new fragrance collection will pep up your place in no time!
The collection incorporates six scents: Currants & Acai, Sheer White Cotton, Lotus Bamboo, Mcintosh Apple (92.4% natural), Earthly Awakening (93% natural), and Orange Vanilla (94.2% natural). However, you can pick more than just your scent-there are also different ways to enjoy each one! First off are the soy candles, your choice of smaller single wick of larger three wick. The small ones are ideal for a nightstand or small table, while the larger ones are perfect for refreshing the air in a larger room or setting the mood when you have company. And if candles aren't your thing-or you want to keep the scent going overnight-you can also purchase all of the scents in a scented reed diffuser!
So far I've gotten to sniff the Currant & Acai and Mcintosh Apple. I think the latter is my favorite… The candle makes me feel like I'm in a beautiful orchard on a clear fall day. The Currant & Acai scent is totally mouth-watering, though-and both do a great job of canceling out the "pet smell" coming from next door!
If you don't have any scent issues of your own, this collection-and the large candles in particular-would make a great Mother's Day gift! The single wick candles are only $5.99, and the large one candle and reed diffuser are $9.99. Check out the collection at your nearest Walgreens, or wherever you normally buy Glade products!