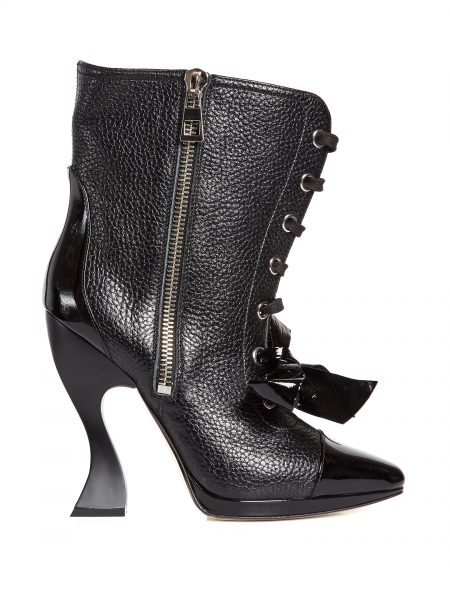 Boots have made a comeback in the best ways possible. After fashionistas everywhere had had enough of 1970s knee-high patent leather, boots faded into obscurity, but only for a brief time. The mid-to-late 1980s rockers brought back partying and cowboy boots with fury, and the early 1990s saw everyone grunging it up with angst in Doc Martens. Today, it isn't an either/or proposition. There are several fabulous boot styles that can express any mood you're in. Here are four of them.
Sexy
A blast from the rockin' and rollin' of the 1980s are sexy thigh-high boots. Women everywhere flocked to rock clubs in mini skirts and thigh-highs to show off a new kind of sexiness. The Sunset Strip in Hollywood was the place to be if you were a musician or groupie, and a girl either had on a pair of cowboy boots, thigh-high boots, or thigh-high lace or fishnet stockings with heels. The look has matured some over the decades, but women today are still showing off a little leg when they're feeling sexy with thigh-high low-heeled or high-heeled boots.
Casual
You can also "sex up" a casual look with ankle or knee-high boots. If you're wearing a mini skirt or a pair of shorts, boots add to your style rather than detract from it. A cute pair of strappy ankle boots also looks good with jeans, as do buckled or studded styles. Casual boots work well when you're feeling laid back but not so laid back you want to go out in a pair of flip-flops. Ankle boots also dress up your "Business Casual Friday" outfit enough but not too much. It's much better to show up to work in a nice pair of casual boots than a pair of athletic shoes, even if they are expensive ones.
Professional
Speaking of professional, men used to wear boots to work all the time and women still do. Nothing tops off your pantsuit than a classic pair of professional ankle boots in black, brown, or taupe. You can select a beautiful pair that has just enough heel if you're in the mood to look formal yet remain comfortable. Classic embellishments, such as pretty straps and fun buckles, add to your overall appeal. If you're wearing a skirt to the office and it's cold outside, select a pair knee-high or thigh-high boots to keep your legs warms. Pantyhose have fallen out of style in the workplace, but boots have not.
Rebellious
For many people, grunge never went away, it just transformed into Goth. If you're feeling a bit rebellious inside, express it outside with a pair of black, lace-up combat boots. These look amazing with a frilly skirt or black leggings. You can also vamp it out with black booties that cover the backs and sides of your legs and feet and lace up the front. Everyone is a rebel inside, so let out your "Rebel Yell" (in honor of Billy Idol, of course) with some silver buckled and studded black boots. Punk isn't dead. Neither is grunge or Goth. The three styles share one thing in common, and that's a pair of rebellious boots.
Finding What's Right for You
No matter your mood, you want to find a pair that is right for you and your body type. For example, if you have thicker calves and would like to slim them down, select a pair of black knee-high or thigh-high boots. If you want to add depth to your calves because they're too skinny, a lighter color and embellishments such as fringe will help fatten your legs. Those with thicker ankles should think the same way, black to slenderize the area between your shins and feet. Those with thinner ankles can accentuate them with cutout boots that fasten using thick ankle straps.
If you're tall, you may opt for lower heels or no heels, and if you're petite, the sky's the limit on how high your heels can be. Just make sure you don't wear heels you cannot walk in, as you might fall and hurt yourself. Try many different styles on for size, literally and figuratively, to see what feels and looks best on you. No matter what your mood is, it will sour quickly if you're wearing an uncomfortable or unattractive pair of boots, so make sure you're happy with how you feel and look from head to toe.