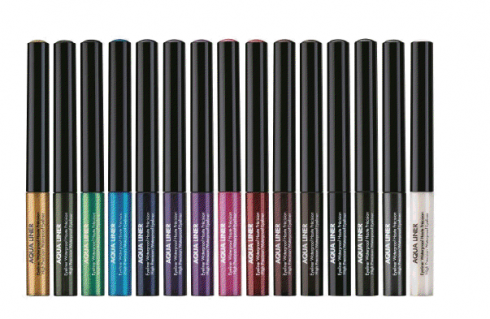 You may remember my introduction of this product. It promises waterproof capabilities, bold color, and an efficient, smooth application. I'm here to tell you that it delivers on all three. I personally wore Aqua Eyes for a full day and then showered with warm water. The liner stayed on so well I had to wash my face and use make-up remover afterwards! The liquid is smooth when it goes on, which greatly prevents any feathering or unintentional smudging. I would recommend this to a girl who has places to go, and people to impress as these colors are very vibrant and have shimmer in them. The shimmer in the formula is fine enough to be subtle, but still illuminating.
Aqua eyes comes in the following shades:
#1 – Diamond Gold
#3 – Iridescent Emerald Green
#4 – Diamond Lagoon Green
#5 – Diamond Turquoise Blue
#6 – Iridescent Navy Blue
#7 – Diamond Black Purple
#8 – Iridescent Electric Purple
#9 – Iridescent Fuchsia
#10 – Iridescent Red
#11 – Diamond Burgundy
#12 – Mat Mocha
#13 – Mat Black
#14 – Diamond Multicolor Black
#15 – Iridescent Anthracite
#16 – Diamond White
Now available at Sephora!
US- $23
Canada-$26
All of these colors seem very layerable! I used colors #8 and #15 which create a very vibrant smokey effect when layered. I can't wait to go out and grab a few more I have my eye on!
Intimidated by liquid eye liner?
Don't be, Make Up Forever offers a step by step tutorial on one of their newest Aqua Eyes looks. With this tutorial you can practice and eventually master liquid eye liner application. To view the tutorial click here.
What do you ladies use to line your eyes? Will you be heading out to try Make Up Forever Aqua Eyes?
XoX
Andrea