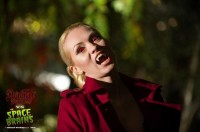 Recently, Urban Decay worked on a very cool project – beyond the norm of creating to-die-for cosmetics!  They teamed up with several award winning favorites, and the super-cute Neil Patrick Harris for a little Halloween project.  What am I talking about?  Dracula's Daughters vs. the Space Brains!  Urban Decay provided makeup for the film, and got to hang out on the set.  Aprella and Erica Taylor rock Urban Decay faves throughout the flick, which you can view on iTunes.
Wondering what the lovely ladies are wearing?  Well, Urban Decay provided me with an inside scoop!  The products used on set include:  Brightening Complexion Primer Potion
, Cream to Powder Foundation
, Razor Sharp Ultra Definition Finishing Powder
, 24/7 Concealer
, Matte Eyeshadow in Foxy
, Matte Eyeshadow in Naked
, Brow Box in Honey Pot
, Liquid Liner in Perversion
, Baked Bronzer
, Afterglow Blush in Score, Lipstick in Lovechild
,  Urban Lashes in Tease
.
Urban Decay's Cream to Power Foundation is one of the best makeup products I've ever used, and quite possibly my all time favorite foundation.  I've been missing it this summer, since it's been too hot to wear much makeup on my face.  The cool weather means a lot of things, but one of the best is getting to pull out my beloved foundation compact!  You can read my full review here, and purchase it from Sephora through the link above.
Photo courtesy of Tracy Birdsell Photography.